School of Music Welcomes Chamber Music Duo, Terra Voce, February 28
February 18, 2011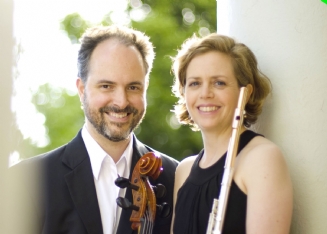 February 18, 2011, Greencastle, Ind. — The DePauw University School of Music welcomes guest artists Elizabeth Brightbill (flute) and Andrew Gabbert (cello), who comprise the innovative chamber music duo, Terra Voce, on Monday, February 28. The campus and public are invited to a free performance in the Judson and Joyce Green Center for Performing Arts, Thompson Recital Hall, at 7:30 p.m.
Earlier in the day, the musicians will sit down for a "brown bag" lunch from 11:40 a.m. – 12:30 p.m. in the Green Center's Great Hall. Students, faculty, staff and others are welcome and encouraged to stop by for what promises to be an engaging conversation about the music industry today. Brightbill and Gabbert will share the challenges of reinventing their careers as independent musicians after leaving the structure of full-time orchestral positions, as well as the benefits and fulfillment they are rewarded with as stewards of entrepreneurship. The informal discussion is open and participants should feel free to inquire
about other related topics.

Since forming Terra Voce in 2006, Gabbert and Brightbill have delighted audiences with their virtuosity, engaging, conversational style of presentation, and their genre-expanding programs that explore diverse musical styles, traditions, and cross-cultural influence. They have appeared on the Millennium Stage at the Kennedy Center, in the Christ Chapel Chamber Series at New York City's Riverside Church, and as finalists in the National Flute Association's Chamber Music Competition.
Together with three other flute and cello duos, Terra Voce has formed a commissioning circle and premiered the consortium's first commission, Dviraag, by Asha Srinivasan in 2009. Subsequently, they performed this work at the 2010 Society of Composers National Conference, to much acclaim. Terra Voce released their debut CD in 2009.

Elizabeth Brightbill held the position of principal flute with the Tulsa Philharmonic and Opera orchestras for ten years and has also performed with the Richmond Symphony,
the Alabama Symphony, the Fort Wayne Philharmonic, and the Britt, Wintergreen, and OK Mozart Festival orchestras. As a chamber musician, she has performed in numerous concerts and educational presentations in Terra Voce and as a member of the Tulsa Philharmonic Woodwind Quintet. She has appeared as soloist with the Tulsa Philharmonic and has performed in concerts at several National Flute Association conventions. A recipient of multiple awards, Elizabeth was named winner of the NFA's 2007 dissertation competition for her research on the flute music of Shulamit Ran, and was a semi-finalist in the 1993 NFA Young Artist Competition. She was second runner-up in the 2004 Myrna W. Brown Artist Competition and was awarded a graduate fellowship at the Indiana University Jacobs School of Music where she earned the Doctor of Music degree. She has taught at a number of colleges across the country and currently teaches at Mary Baldwin College, Longwood University, and Eastern Mennonite University in central Virginia.

Prior to the creation of Terra Voce, Andrew Gabbert held titled positions with the Tulsa Philharmonic and Opera orchestras for eleven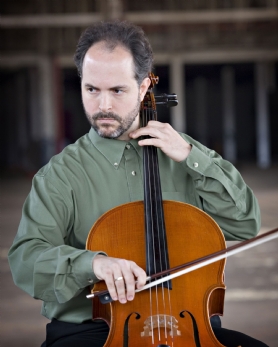 years. He has also performed as soloist with the Tulsa Philharmonic and the National Repertory Orchestra, and has recorded on Centaur Records as the principal cellist of the Chorus Civitas Orchestra. He has previously been a member of the Baton Rouge Symphony, National Repertory Orchestra and Terre Haute Symphony. Summer festival appearances have included the Wintergreen, Britt and Sunriver Festivals, the Texas Festival-Institute at Round Top, OK Mozart with the Solisti New York Orchestra, and Light Opera Oklahoma. As a chamber musician, he regularly presented educational concerts as a member of the Tulsa Philharmonic String Quartet/Quintet. He has taught as a visiting instructor at the University of Oklahoma, and as a graduate assistant at Louisiana State University. He currently teaches at Randolph College in Lynchburg, Virginia and maintains a private studio.
Founded in 1884, the DePauw University School of Music is one of the oldest in the nation and has an established tradition of educating leaders in virtually every facet of music, including performers, educators, composers and administrators. Learn more here.
Back