Prize-Winning Poet Gjertrud Schnackenberg Visits April 6
March 30, 2011
March 30, 2011, Greencastle, Ind. — Acclaimed poet Gjertrud Schnackenberg will visit the campus of DePauw University next Wednesday, April 6, to read from her latest collection, Heavenly Questions. Her appearance, sponsored by the James and Marilou Kelly Writers Series, will begin at 7:30 p.m. in the auditorium of the Richard E. Peeler Art Center and is free and open to the public. (photo by Mike Minehan)
Schnackenberg has been awarded the Academy Award in Literature from the American Academy of Arts and Letters, the Berlin Prize from the American Academy in Berlin, the 2001 Los Angeles Times Book Prize in Poetry, and the Rome Prize in Creative Literature from the American Academy in Rome, as well as fellowships from the National Endowments for the Arts, The Radcliffe Institute, and the Guggenheim Foundation.
Heavenly Questions is Schnackenberg's first new collection of poems since the critically acclaimed The Throne of Labdacus, which focused on the myth of Oedipus and the stories of ancient Greece. The new collection is "a set of six linked long poems inspired (the word must be carefully considered, in this context) by the illness and death of her husband, the
philosopher Robert Nozick," according to Slate's Karl Kirchwey. "It is perhaps the most powerful elegy written in English by any poet in recent memory, and it is a triumphant consummation of Schnackenberg's own work. In it, a poet of wide learning and traditional poetic form has been hurt into outraged and incandescent song."
"Gjertrud Schnackenberg stands out among younger American poets for her ambition, in the best sense of the word," wrote Adam Kirsch in the New York Times Book Review. "Her verse is strong, dense and musical, anchored in the pentameter even when it veers into irregularity; behind it are formidable masters, Robert Lowell most notably, but also Yeats and Auden. Lowellian, too, is her desire to treat history as something more than a stage setting, to make it the medium of thought and feeling."
The New Republic's Glyn Maxwell opined, "The poetry of Gjertrud Schnackenberg has always seemed to be written white-on-black, not only because her lines have the tuned quality of work that has absorbed how sheer is the drop from white to black, from utterance to nothing,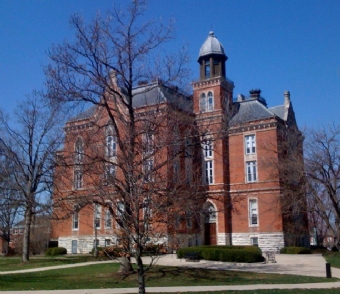 but also because the well-springs of her art seem connected at some profound level to the witnessing of light against dark or dark against light. These two factors are both the cause and the effect of the work's sustained dignity and strength ... Much of her best work, even in the poems that most obviously manifest such width and perspective, is in the exquisite accuracy with which she beholds details, as if the bright child did her true apprenticeship not in the beam of the study lamp, but in the glow of the dollhouse windows."
Jennifer Egan, whose A Visit From the Goon Squad was announced as the winner of the National Book Critics Circle Award for fiction earlier this month, will visit DePauw on April 27. Learn more here.
Back