Winners of 2011 Concerto Competition Perform at April 10 Showcase
April 1, 2011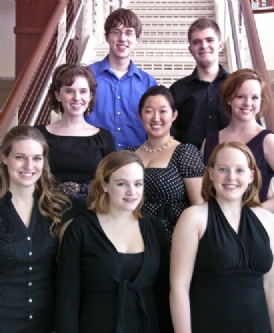 April 1, 2011, Greencastle, Ind. — Winners of the annual DePauw University School of Music Concerto Competition will perform on Sunday, April 10, in the Green Center for the Performing Arts, Kresge Auditorium. The 3 p.m. program, which is free and open to the public, will feature the DePauw University Orchestra under the baton of Orcenith Smith, director of orchestras.

Winners of the DePauw Concerto Competition are awarded the distinct opportunity to perform their repertoire in concert with a full orchestra. This year's winners are: Sarah Chamberlain (flute, student of Anne Reynolds); Elizabeth A. Orsborn and Jennifer Wilson (sopranos, students of Caroline Smith); Sam Crocker and Kathryn Pfaff (horns, students of Robert Danforth); Josiah Rushing (percussion, student of Amy Lynn Barber); Esther Shim (violin, student of Dan Rizner); and Claire Wilkinson (soprano, student of Pamela Coburn).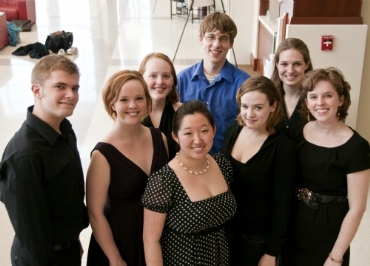 Thirty-six students competed in the preliminary round of the competition on February 24. Finalists proceeded to a round held two days later. Seven winners were selected. Faculty members from the DePauw School of Music served as judges for the first round, and four judges from outside of the University were brought in to adjudicate the final round of the competition.

The program for the concert on April 10 includes: Johann Stamitz's Flute Concerto in G Major; "Stizzoso, mio stizzoso" from La Serva Padrona by Giovanni Pergolesi; Leonard Bernstein's "Glitter and be Gay" from Candide; Concerto for Two Horns, C57 by Antonio Rosetti; Joseph Schwantner's Percussion Concerto; Violin Concerto by Peter Tchaikowsky; and two movements from Gustav Mahler's Des Knaben Wunderhorn (The Youth's Magic Horn).

"DePauw's annual Concerto Competition is a powerful project which challenges the young musician," shares Professor Orcenith Smith. "This year's winners performed repertoire from memory in both rounds of the competition, exemplifying poise and artistry. With guidance and support by the individual's teachers, the students' hard work culminates in a compelling
energy drawn from this focused project. The ensuing rehearsals with the Orchestra synthesize the composer's vision with the performer's energy, and the result is an exciting performance showcasing the musical talent of the students at DePauw University School of Music. This year's concert is going to be a thrilling event for everyone in the audience."

Founded in 1884, the DePauw University School of Music is one of the nation's oldest private institutions for post-secondary music instruction and the longest-running in Indiana. Learn more here.
Back