TV Reporter Corey McConnell '03 Leaving Cincy Fox Affiliate
May 12, 2011
May 12, 2011, Greencastle, Ind. — "Reporter Corey McConnell leaves WXIX-TV on May 24 after six years," notes Cincinnati Enquirer media columnist John Kiesewetter. A 2003 graduate of DePauw University, McConnell tells the station that her husband, Dan Best, has taken a position in Tampa Bay, and the family is moving to Florida.
"I am going to take a break from TV for a while and get us settled down there and spend some time with my kids (Cannon 2 1/2 and Emerson 6 months)," she says. "But I am not sure you ever really leave TV so I think eventually, I'll get back to reporting." McConnell, who majored in communication at DePauw, adds, "I would be remiss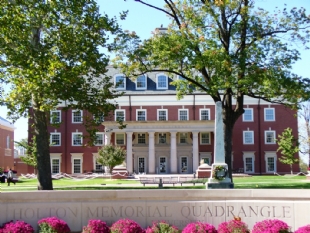 if I didn't mention that I feel so lucky to have spent nearly six years at Fox19. I have worked with and for some of the best in the business and I will miss them tremendously."
The station's news director, Matt Miller, says, "She did a great job here for over 5 years and she will be missed. Very professional and always a positive force in the newsroom, and a great mentor to the younger staff members."
The columnist writes, "McConnell came to Channel 19 in fall of 2005 after TV jobs in Terre Haute and Evansville, Ind.," and notes her DePauw degree.
You'll find more information at the newspaper's website.
Back