Former President Dick Rosser Takes Helm of NAICU
November 1, 1986
November 1, 1986, Greencastle, Ind. — Richard F. Rosser, who served as DePauw University's seventeenth president from 1977 until earlier this year, has assumed the presidency of the National Association of Independent Colleges and Universities, effective today. Based in Washington, D.C., NAICU represents the entire range of the nation's privately endowed colleges and universities. It also includes the separate state organizations of independent institutions of higher education.
"Dr. Rosser will be the foremost spokesman to Capitol Hill, the public, the media, and state governments on issues critical to privately funded higher education," according to Paul Goodwin, director of communications for NAICU.
Rosser was selected for the post in late September from a field of more than 50 candidates, reports the Chronicle of Higher Education. Many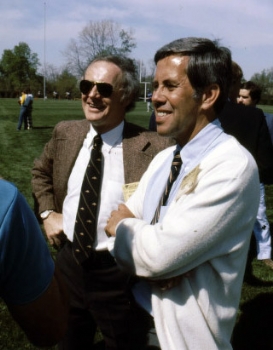 applicants had close ties to Capitol Hill. (photo at right: Rosser and U.S. Senator Richard Lugar at DePauw's Little 5 bike race)
The former DePauw president promises to be in close contact with the more than 800 college presidents NAICU represents. "You have to be sensitive to what's going on out there," Rosser tells the Chronicle. "You have to know what it's really like out there for parents who are thinking about sending their kids to college. Where does it rank in terms of their desires? What we have to do now is change the perception about what higher education is. There are people who don't seem to understand what is unique about colleges and universities. They have the mistaken view that we're profit-making institutions, and they don't realize how hard it is to keep a college growing."
Rosser announced plans to retire in January and was named chancellor of the University by the Board of Trustees. He had planned to serve in that capacity during DePauw's sesquicentennial celebration, which ends in June. Robert G. Bottoms succeeded Dr. Rosser as president on July 1.
The NAICU presidency "was an opportunity I did not seek, but my peers persuaded me to accept it," Rosser notes. "I feel very good about my experience at DePauw and what we've been able to do to advance
the values of private higher education and the inherent worth of a liberal arts education. I now have an opportunity to play a national role in explaining the values of private higher education and also the importance of federal and state support of it. It was a challenge I could not refuse."
"We certainly hate to see Dick leave DePauw," notes President Bottoms. "We had anticipated his being here through next June. I can understand his decision, however. It's a very positive move for him; he had to leave when the opportunity was offered. Dick has done an outstanding job in a difficult decade for higher education."
U.S. Senator Dan Quayle (R-Indiana), a 1969 graduate of DePauw, noted in the Congressional Record, "I would like to commend Dr. Rosser for his long-standing commitment, integrity and dedication to the highest standards of professional competence during his service to the university. He has consistently displayed effective leadership and succeeded in creating an education climate to support his goals."
Back