Former DePauw President Francis McConnell Dies on His 82nd Birthday
August 18, 1953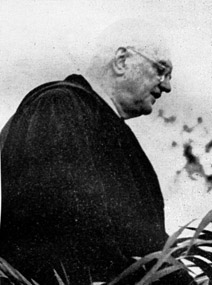 August 18, 1953, Greencastle, Ind. —Francis J. McConnell, retired Methodist bishop and the ninth president of DePauw University, passed away today at his home near Lucasville, Ohio. Today was Bishop McConnell's eighty-second birthday.
He was born on a farm near Trinway, Ohio, in 1871, the son of a Methodist clergyman. McConnell graduated from Ohio Wesleyan University in 1894 and then studied at Boston University's School of Theology, where he came under the influence of Borden Parker Bowe, professor of philosophy and widely known exponent of the philosophy of personalism. McConnell became so imbued with the theory that eventually he was recognized as a leader of the personalist group in America.
He held several pastorates in Massachusetts and was invited to return to Boston College as dean of the School of Theology but declined. Becoming president of DePauw in 1909, he inaugurated and carried to successful conclusion a campaign to increase the University's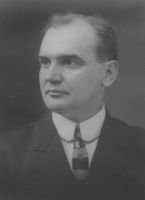 endowment and broaden its educational offerings by expanding the curriculum.
McConnell was elected a bishop in 1912, with official residence in Denver, Colorado. He served in Pittsburgh from 1920-28 and was then assigned to the New York area, where he remained until his retirement in 1944.
Bishop McConnell was elected president of the Federal Council of Churches of Christ in America in 1928. He held visiting professorships at Columbia and Drew universities, at Garrett Biblical Institute and Scarritt College. He published 18 books, including his autobiography, By the Way, which was issued last year by the Abingdon-Cokesbury Press.
Back