DePauw Prepares for November 18 Visit by President Bill Clinton
November 7, 2011
Also: Details of President Bill Clinton's Ubben Lecture on November 18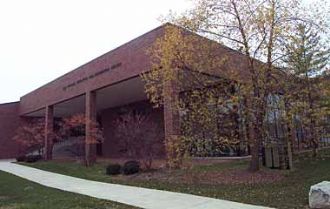 November 7, 2011, Greencastle, Ind. — Doors at DePauw University's Lilly Center will open to students at 1 p.m. and the alumni, faculty, staff and the general public at 1:30 p.m. for the November 18 Ubben Lecture by President Bill Clinton. The event will take place in Neal Fieldhouse, located within the Lilly Center, with the speech beginning at 3 p.m.
President Clinton, founder of the William J. Clinton Foundation and the 42nd President of the United States of America, will give the keynote speech titled "Embracing Our Common Humanity." As with all Ubben Lectures, the speech is presented free of admission charge.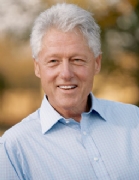 "We hope to configure the venue to provide as many as 5,000 seats, so there should be plenty of room, but I encourage people to get to the venue early to ensure they're able to be part of this historic day," says Ken Owen '82, executive director of media relations at DePauw and coordinator of the Ubben Lecture Series.
Students will enter the venue through the entrance on the east side of the Lilly Center, and will need a valid DePauw ID to gain admission through those doors. Other visitors will enter through the north side of the building. The map at left highlights the entrances.
If needed, overflow seating will be available across the street in Green Center for the Performing Arts' Kresge Auditorium, where the program will be shown via a closed circuit video transmission.
Attendees should be prepared for security checks. Bags, backpacks, purses, cameras, cell phones, signs, and key chains with mace or pepper spray attachments will not be permitted in the Lilly Center.
The event will mark the 25th anniversary of the Ubben Series, which was established in 1986 through an endowment established by 1958 DePauw graduates Timothy and Sharon (Williams) Ubben. The programs are fully underwritten by the Ubben Fund.
Previous guests of the Ubben Lecture Series have included Mikhail Gorbachev, Tony Blair, Elie Wiesel, Benazir Bhutto,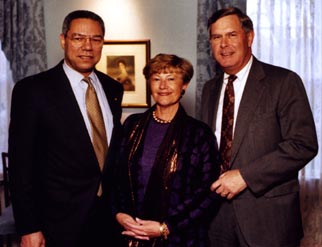 Margaret Thatcher, Gen. Colin Powell, Shimon Peres, Jesse Jackson and Oscar Arias. The visitors have included eight Nobel laureates (six of them won the Nobel Peace Prize). President Clinton will become the first U.S. president to deliver an Ubben Lecture. (at right: Gen. Colin Powell with Sharon and Tim Ubben; November 2, 1994)
Learn more about President Clinton's visit in this previous announcement.
Vernon Jordan, a longtime friend and adviser to President Clinton as well as a 1957 graduate of DePauw, will be on hand for the event. Details can be found here.
To view a complete roster of Ubben Lecturers -- which includes links to video clips and news stories -- click here.
Back