Prof. Emeritus Cassel Grubb, Former Leader of School of Music, Passes Away
January 2, 2012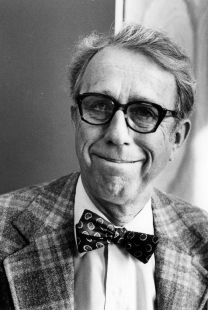 Cassel Grubb, professor emeritus of music at DePauw and former director of the DePauw University School of Music, passed away last night in Greencastle. He was 88 years old.
Grubb was a professor of violoncello and theory at DePauw from 1949 until his retirement forty years later. He was appointed director of the School of Music in 1978 and held that post until his retirement in 1989. He is remembered by several generations of DePauw students for his enthusiasm for teaching, as well as his bow ties and jovial laugh.
"The words 'Cassel Grubb' are spoken only in reverential tones -- not only at DePauw but at Interlochen and other places where music is revered," says Mark McCoy, dean of the DePauw University School of Music. "His talent as a 'cellist was matched only by his talent as a leader. All accomplishments in the DePauw School of Music are on his shoulders."
Born July 23, 1923, in Palmyra, Pennsylvania, Grubb was the recipient of bachelor's and master's degrees from the Eastman School of Music. A veteran of World War II, Grubb was first cellist in the Camp Lee Symphony Orchestra and first cellist in the Army Air Force String Quartet.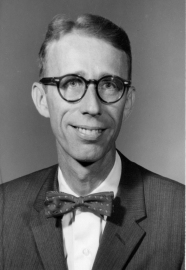 Prior to joining the DePauw faculty, Grubb was a member of the Eastman Rochester Symphony Orchestra and professor of cello at Del Mar College. He also served as a member of the cello faculty and director of the National Music Camp at Interlochen, Michigan, where he was director of the camp's string ensemble program 15 years and for 10 years co-directed its adult chamber music conference.
As a performing musician Grubb played for three decades with DePauw's highly respected Aeolian Trio, which performed throughout the Midwest and Eastern United States.
In 1988, Professor Grubb was the inaugural recipient of the Mr. and Mrs. Fred C. Tucker Jr. Distinguished Career Award, which is presented to an outstanding senior member of the DePauw faculty. In 1999, the Grubb University Professorship was established by the Board of Trustees in accordance with a gift from Gary P. Drew '61 and Sandra Aldrich Drew '62.
"We wanted to honor Cassel Grubb for all he has done in helping young people both at DePauw and Interlochen," Sandra Drew said at the time. "He also was my favorite teacher. It's a privilege to honor him."
In 2008, his former students and friends established the Cassel Grubb Cello Scholarship at Interlochen, which is given each summer to an outstanding young cellist.
As the DePauw School of Music began the celebration of its 125th season in September 2009, Professor Grubb noted, "What has remained the same throughout the years in the School of Music is the emphasis on performance. Regardless of a student's major, performance is the center of his or her studies. They not only study an instrument but also participate in ensembles."
On May 22, 2011, Grubb was awarded an honorary doctorate at DePauw's 172nd commencement ceremonies.

[Download Video: "Prof. Cassel Grubb Honored" - 6714kb] "This is a day that I shall always remember," the professor stated as he was honored in Holton Memorial Quadrangle. "I'm especially honored because it's given from the University where I taught and performed for 40 years." (photo at right: Cassel Grubb receives his honorary doctorate from DePauw President Brian W. Casey)
A memorial mass will be held on Saturday, January 28, at 10 a.m. at St. Paul the Apostle Catholic Church, 202 E. Washington Street, Greencastle.
Back