Prof. Cassel Grubb is First Recipient of the Tucker Award
May 12, 1988
May 12, 1988, Greencastle, Ind. - Cassel Grubb, the former director of the DePauw University School of Music, is the first recipient of the Mr. and Mrs. Fred C. Tucker Jr. Distinguished Career Award. The honor, which will be presented annually going forward, goes to an outstanding senior member of the DePauw faculty.
"Cassel has made tremendous contributions to the education of generations of DePauw students," says President Robert G. Bottoms. "It is with pleasure that we bestow on him this honor.
Grubb joined the DePauw School of Music faculty in 1949 and was appointed its director in 1978. He had been scheduled to retire June 30 after nearly 40 years of teaching, but will return for one year as acting director while the current director of the school, John Vander Weg, is on special leave.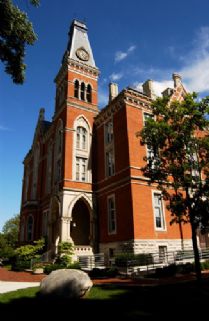 Grubb also serves as professor of violoncello and theory and the John C. and Lillian W. Siegesmund Professor of Music.
He received his bachelor's degree from Eastman School of Music in 1946. He has been the recipient of the Best Teacher Award at DePauw and has served for more than 25 years as a member of the faculty of the famed National Music Camp at Interlochen, Michigan, where he has been director of the string ensembles program and cello instructor.
Known widely for his bow ties and the jovial laugh that echoes through the Performing Arts Center's hallways, Grubb has seen generations come and go from DePauw. He feels most fondly about "the students ... to see kids come in and then be successful after they graduate from DePauw. People like Joe Flummerfelt and Pam Coburn and others. That's a tremendous satisfaction," he says.
During his 39 years at DePauw, "A lot of things have happened," Grubb notes. "We established an opera/theatre program, the symphony orchestra program has become a major ensemble at DePauw, and the curriculum has taken on tremendous revisions." He notes that DePauw was one of the first colleges to have an accredited music business program, which was created during his tenure as director. A double major was also created, allowing students to blend a music major with a second area of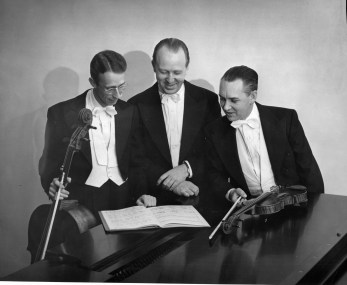 study in the College of Liberal Arts. Grubb also established master classes with visiting artists who came to perform at DePauw.
The professor takes special pride in noting that the School of Music is truly open to all students; during his last year as director, a quarter of the music school's total enrollment -- 492 students -- were liberal arts students.
Fred C. Tucker Jr. is president of Tucker Investment Co. Inc. of Indianapolis and a 1940 graduate of DePauw. He has been a member of the University's Board of Trustees since 1967, serving as chairman in 1977. In 1974 he received DePauw's highest alumni award, the Old Gold Goblet.
Back