Dr. Compton's Lecture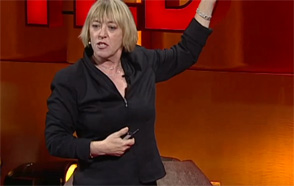 March 8, 2013
It's no surprise that Jody Williams comes up often in political science instructor Deepa Prakash's courses. With topics such as international security and "non-state actors in world politics," it would be difficult for Prakash to leave Williams and the organization she founded, the International Campaign to Ban Landmines (ICBL), out of the conversation. Williams and the ICBL received the 1997 Noble Peace Prize for work that led to the Ottawa Treaty banning the use of anti-personnel landmines. More than 160 United Nations member states have signed on to the treaty, although major military powers such as the United States, China and Russia still have not.
"Her case illustrates some very important lessons in international politics," Prakash says. "First, that individuals and groups with principled beliefs can impact the behavior of states in even core areas such as national security. It also illustrates the limits of such action despite remarkable success."
Soon, Prakash and her students will have a chance to hear Williams present her case in person. The Nobel laureate visits DePauw on Tuesday, March 19 to give the Johnson-Wright Lecture in Conflict Studies to Honor Russell J. Compton. The event, which begins at 8 p.m. in Moore Theater, is free and open to all.
"It will be thrilling to hear directly from someone who continues to actively shape the human rights agenda," Prakash says.
In 2006 Williams and five other female Nobel Peace Prize laureates established the Nobel Women's Initiative, leveraging their experience and renown to advance the rights of women worldwide. Her visit follows the release of her new book, My Name is Jody Williams: A Vermont Girl's Winding Path to the Nobel Peace Prize, in which she tells the story of her unlikely rise to becoming an international authority on landmines and beyond.
"One of the points she makes is that anybody can have an extraordinary impact," says Associate Professor of Political Science Brett R. O'Bannon, coordinator of the Conflict Studies Program. "There was nothing preordained about her status, nothing in her background to predict all that she accomplished, and I just think that's a fantastic message for our students."
The Johnson-Wright Lecture – informally known as the Compton Lecture – began in 2011 as a way to bring experts in the area of conflict studies to Greencastle. That year, Karen Koning AbuZayd '63, former commissioner-general of the United Nations Relief and Works Agency for Palestine Refugees, presented the inaugural lecture. Though Williams is only the second speaker in the short history of the series, it continues the legacy of a professor and ordained United Methodist minister who influenced activists at DePauw for more than half a century.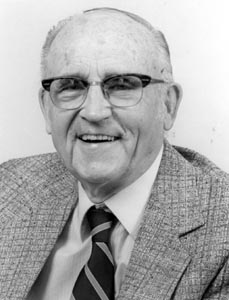 Russell Compton was a man worth knowing. From 1951 until his retirement from teaching in 1974, his time as a professor of religion and philosophy came during a period of dramatic social change. Ironically, Compton himself refrained from lecturing in the classroom. He wanted students to discover their moral and intellectual cores through dialogue: what he believed to be the foundation of a just and peaceful world.
"The way I taught was a very good way to teach, I thought," Compton said in a 2007 radio interview, produced by Associate Professor of Communication and Theatre Kevin Howley shortly before Compton's death at the age of 98. "People learned to dialogue, to discuss, to talk to each other. I don't think people really live a human life if they don't talk in depth with other human beings."
Christopher J. Wurster '69, director of 50th reunion programs at DePauw, is one of many alumni who took Compton's Basic Beliefs of Modern Man course. Wurster remembers the lengths to which he and his classmates went to try to pin their professor down to a simple answer. Most of the time, Compton responded with more questions.
"It was very frustrating at first, but I came to appreciate his gentle genius," Wurster says.
Though reserved in the classroom, Compton's open activism earned him a reputation for rocking the boat. Three times he led students on marches in Washington, D.C., including the 1963 march at which Martin Luther King Jr. delivered his "I Have a Dream" speech. During the Vietnam War, he counseled antiwar students, drawing on his own pacifist Quaker upbringing as a child. Wurster, who was also Compton's advisee, later counted on his former professor as a reference for his conscientious objector application.
American attitudes shifted in the decades that followed Comptom's tenure. Segregation and institutionalized racism are today almost unimaginable, and the Vietnam War has since become a cautionary tale. But when he was a professor, his beliefs put his career at risk. In fact, Compton had been dismissed from an earlier position at Hendrix College for inviting civil rights activist Bayard Rustin, an African-American, to campus. He had a positive take on the experience, however, pointing out to friends and colleagues that he never would have come to DePauw otherwise.
In 1980, six years after his retirement from the faculty, Compton returned to campus to volunteer as an associate chaplain – a position he held until his death. Professors, staff members and students alike continued to look to Compton for guidance throughout his remaining 27 years.
"One of the great things about talking with Russell as a younger person working with students was that our scope is very limited," Valerie E. Rudolph says. "We see what's happening now and think, 'How can we possibly fix this problem?' But he had such a great perspective of things because he had seen so much change. He was very much an optimist. It was hopeful, motivating."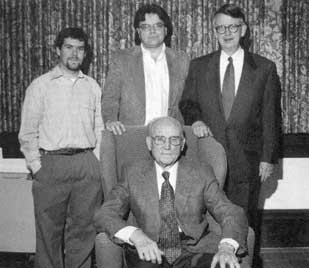 Rudolph is director of the Russell J. Compton Center for Peace and Justice, a campus resource for students who wish to learn and teach others about social justice issues. Founded in 2000 by Jacob P. Gross '00, now a professor at the University of Louisville, with support from Professor of History Glen D. Kuecker and former Dean of the Chapel O. Wesley Allen Jr., the center was named as a tribute to the man who for so many years was the living embodiment of its goals. (Photo: Gross, left, stands behind Compton with Kuecker and former DePauw President Robert G. Bottoms.) Humbled by the gesture, Compton assured others that he wouldn't be offended if they ever wanted to change its name.
"Every week he would say, 'You know, you don't have to keep my name on there. You can change it to something else,'" Rudolph remembers.
With the addition of the Compton Lecture, his name has once again been attached to something in his honor – but Compton is no longer with us to protest. The people who knew him wish he was. Those who never met him should, too.
Back