Russell J. Compton Center for Peace and Justice Aims to Raise Consciousness
February 23, 2000
February 23, 2000, Greencastle, Ind. - There is a "growing discontinuity between the rich and the poor" worldwide, said Russell J. Compton, professor emeritus of philosophy, today at a ceremony dedicating DePauw's new Russell J. Compton Center for Peace and Justice. Located in the Religious Life Center, the Compton Center is designed to raise consciousness among members of the University community concerning issues of campus, local, national and global social justice. The Center will also provide opportunities for academic reflection on these issues and to empower people to work for social change.
P. Jacob Gross, a 2000 graduate of DePauw, will serve as director of the Compton Center, and says the idea for the Center came to him while he was studying in Bolivia in the spring of 1999. Witnessing the conditions of poverty combined with the level of student activism in Bolivia, Gross noticed a stark contrast to the level of consumption in the U.S. and the awareness of American students to global social issues. (top photo shows, standing, l-r-, Jake Gross '00, Professor Glen D. Kuecker, and President Robert G. Bottoms; Dr. Compton is seated)
Russell Compton, who holds a doctorate degree from Yale University and is an ordained United Methodist minister, was a professor at DePauw from 1951 until 1974. Since 1980, he has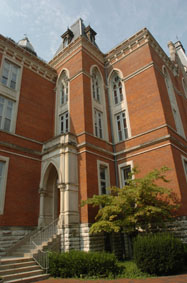 volunteered as an associate chaplain at the University. Many alumni remember Compton best as a professor who taught the "Basic Beliefs" course, which was offered at DePauw from 1958 until 1977 and helped a generation of students shape their own values and beliefs.
While teaching at DePauw, Compton always supported students who worked for racial equality, and he stood in support of students protesting the Vietnam War. He accompanied DePauw students to three marches on Washington, D.C., including the one at which Martin Luther King Jr. delivered his famous "I Have a Dream" speech in 1963.
At the dedication ceremony, which took place in Meharry Hall of historic East College, DePauw President Robert G. Bottoms praised Compton as "a voice of compassion and a voice of encouragement for many people in many generations."
Read more about the Compton Center in this previous story.
Back