Leanna Walther '87 Joins Board of Lake Forest Graduate School of Management
August 9, 2013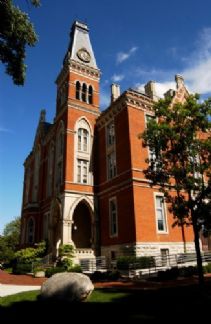 Leanna J. Walther, a human resources executive and 1987 graduate of DePauw University, has been appointed to the board of directors of Lake Forest Graduate School of Management in Illinois. Walther is vice president, human resources, operations at AbbVie, Inc., a global, research-based biopharmaceutical company headquartered in North Chicago.
"Walther has more than 25 years of experience in human resources leadership," notes today's announcement. She joined Abbott Laboratories (which spun off AbbVie earlier this year) in 1987 and rose to the level of divisional vice president in 2004. A communication major at DePauw, Walther earned an M.B.A, with honors, from Lake Forest Graduate School of Management in 1999.
"Leanna brings key expertise and broad experience as a human resources executive and strategic business leader that are highly valuable in helping LFGSM achieve its mission-critical goals," says Lake Forest's president and CEO, John Popoli. He adds that Walther "has continued throughout her career to demonstrate a passion for lifelong learning and continuous improvement that stands at the core of the School's values. We look forward to the valuable impact she will have in helping our leadership team guide the School as it strives to meet the evolving needs of the students and area business community we serve."

Leanna (Hardin) Walther states, "I look forward to sharing my experience with my alma mater, LFGSM, helping to shape the direction of the School and its ability to continue to achieve its goals and objectives. Having benefited from the Lake Forest M.B.A. experience earlier in my career, I hope that my HR and leadership experience at AbbVie and Abbott will allow me to offer new insight into significantly different workforces that may help LFGSM continue to meet the needs of its students and the area's diverse business community."
Read more at Business Wire.
Back