Cellist Eric Amidon '97 Provides Musical Outreach to Children
January 9, 2014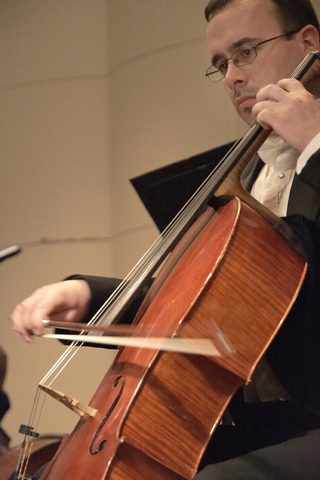 Eric Amidon, cellist with the Ann Arbor Symphony Orchestra and 1997 graduate of DePauw University, will present interactive Charming Cello KinderConcerts at three Michigan libraries this Saturday-through-Monday. The programs are "free, 30-minute concerts designed especially for children 2-6 years old," according to the Ypsilanti Courier.
"Amidon began studying the cello at the age of 3 under Elizabeth Balch in Madison, Wisconsin," notes the newspaper. "At the age of 9, he performed as a soloist with the Lawrence Symphony Orchestra, and has since performed solo works with the Pioneer Symphony and DePauw Symphony Orchestras. He has participated in festivals throughout North America, including two years at the Orford Arts Festival and has performed in master classes with Jeffrey Solow, Tanya Carey, Anthony Elliot, and Leonard Hokinson. Eric earned his bachelor's degree in 1997 from DePauw University

where he studied with Eric Edberg, and with Joel Cohen while studying in Vienna, Austria. In addition to his position with the Ann Arbor Symphony Orchestra he regularly plays regional engagements with chamber ensembles."
Access the piece at the newspaper's website. Learn more about Eric D. Amidon here.
Back