Former Professors and Classmates Talk with Boston Globe About NBA Coach Brad Stevens '99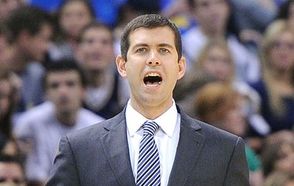 March 2, 2014
Friday's appearance by Brad Stevens, head coach of the NBA's Boston Celtics, at the MIT Sloan Sports Analytics Conference, "the top gathering of analytic-minded sports figures in the country," warrants a Boston Globe column in which Baxter Holmes calls upon several of the 1999 DePauw University graduates former professors and friends.
Known as a "numbers guy" among some observers for his ability to use analytics to better understand his players, opponents and the game itself, Stevens tells the newspaper, "I value the numbers, but I do think that culture is the most important thing."
Later in the piece, Holmes writes, "Gary Lemon, an economics professor at DePauw University, remembered that his former pupil excelled at data analysis and in finding correlations between variables that helped explain, for example, why the housing market fluctuated. 'Brad was always really good at that,' Lemon said. (at left: Stevens and Dr. Lemon as the coach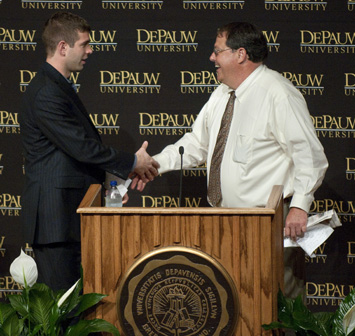 delivered the April 13, 2010 Robert C. McDermond Lecture at DePauw)
"Josh Burch, a close friend and fellow DePauw economics student, said that he and Stevens worked on a senior year project that involved studying the stock market. Stevens excelled at that, too. 'He's able to wrap his head around numbers and understand theory and principles of why things move and behave the way they do,' Burch said. Said Matt Broughton, who shared classes with Stevens at DePauw: 'He always computes in his head pretty quickly. He's a pretty quick, clear thinker.' "
Mary Dixon, professor of economics at DePauw, simply states, "Brad is wicked smart."
The newspaper reports, "Stevens made the Dean's List at DePauw and was a Management Fellow in its honors economics program. He earned an internship at Eli Lilly, a global pharmaceutical giant based in Indianapolis that hired him upon graduating. There, Stevens's analytical mind helped him shine."
You'll find the complete story at the Globe's website.
The 36-year-old Stevens led Butler University to a 166-49 record, including a 12-5 record in the NCAA Men's Basketball Championship and two consecutive trips to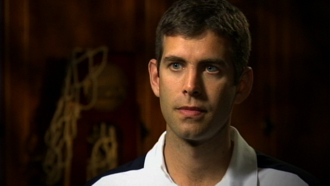 the national championship game (in 2010 and 2011). His 166 wins are the most for any NCAA Division I basketball coach over the first six years to start a career. He was named the head coach of the Boston Celtics in July, becoming the youngest current head coach in the NBA.
My experience at DePauw was about as beneficial as any experience I've had," Brad Stevens told ESPN.com recently. In December, the Boston Globe noted, "Actually, one of the biggest influences in how Stevens leads was a course he took during his sophomore year at DePauw."
Source: Boston Globe
Back