All of the Above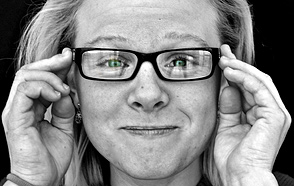 May 7, 2014
One month away from graduation, senior Ashley M. Conard found herself in an enviable dilemma. First, she found out she won a Fulbright Study/Research Grant to conduct bioinformatics research in Belgium. Then she won a National Science Foundation (NSF) Graduate Research Fellowship.
"What happens now?" she thought. "Do I have to pick one?"
Why not both?
This September, the computer science major and French minor begins her yearlong Fulbright-funded stint at the Université Libre de Bruxelles (ULB) in Belgium, where she will use a computer model she helped design to analyze a protein that regulates cell growth and reproduction. When she returns stateside for her deferred NSF fellowship, Conard will continue her studies in Vanderbilt University's quantitative chemical biology Ph.D. program.
The oldest graduate fellowship of its kind, the NSF program awards an annual stipend of $32,000 along with a $12,000 cost of education allowance for tuition and fees, opportunities for international research and professional development. Conard is the latest addition to DePauw's growing list of recipients of the award, joining Megan K. May '13, Catherine "Catie" Baker '12, Heidi N. Keiser '11 and Kathleen F. Mittendorf '10.
"I want to find interesting and complex biological problems, and I want to find the most optimal way to answer these questions using computational techniques," Conard says. "The marriage of biology and computer science can help solve the most complex biomedical problems of our century. We have such a wealth of data, now we just need to be able to analyze it. If we can do this quickly and effectively, we can answer some really agonizing questions concerning diseases, or even just how a cell functions."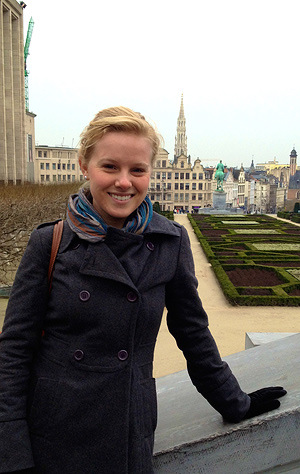 The Fulbright and NSF fellowship will be return trips for Conard, having studied abroad at ULB as a sophomore (left) and spent a January at Vanderbilt on an internship. In fact, it's hard to find experiences that are completely new to her.
Since coming to DePauw, Conard has either chased opportunities or created them. To name a few: She is a Science Research Fellow, an Information Technology Associate and a tutor for computer science and French. She helped establish a campus farm and start DePauw Robotics, and in the summers interned at places such as Eli Lilly and Massachusetts Institute of Technology. This semester, her final at DePauw, has been her calmest, and yet she presented at (and won) a poster competition at Indiana Celebration of Women in Computing (InWIC) 2014, and was named a Microsoft Imagine Cup national honorary finalist for the app she and her programming team created – all in addition to receiving the highly competitive Fulbright and NSF grants.
The one thing Conard says she missed out on as an undergraduate was learning how to relax.
"I can't remember just sitting down and watching a movie," Conard says. "I don't even know how to work our remote at Kappa Kappa Gamma."
Sure, Conard skipped on some leisurely distractions – and even more sleep – but by saying yes to new opportunities, she made it hard for others to tell her no.
Conard's frequent scheduling conflicts trace back to her senior year of high school, when, seemingly out of nowhere, she received a message from Professor of Computer Science Gloria C. Townsend.
"The problem of underrepresentation of women and minorities in computing is so extreme that I reach out to any potential computer science major, no matter where that person is in his or her academic career," Townsend says.
Through their communication, Townsend knew she'd found a special student.
"Our emails revealed her energy, curiosity and motivation," Townsend remembers. "She is the most motivated student that I have encountered in nearly 35 years of teaching."
Townsend convinced Conard to apply for a scholarship to attend the Grace Hopper Celebration of Women in Computing (GHC), an international conference named for the computer science pioneer and Navy rear admiral. They spent months passing application essay drafts back and forth. By the time Conard enrolled and finally met Townsend in person, she had won the scholarship. Townsend, who has chaired the GHC scholarship committee, says it was the first time she had seen a first-year student receive one.
The conference introduced Conard to computer science and its potential within biology, a realization that cascaded across the rest of her college career. From that point on, every time she found success, Conard used the experience to encourage the next round of female computer science majors, conference attendees and Fulbright winners, often sharing the same words of advice she once heard.
"Looking back on what I was able to accomplish here, it all started with Grace Hopper," Conard says. "Gloria told me there was nothing to fear, that I only had something to gain. Go out, shake somebody's hand and say, 'Hi, my name's Ashley.'
"Yes, I have accomplishments, but that's because someone took my hand and said 'Okay, you can do this.' I've been able to encourage and help many other students do the same things. The most motivating thing for me is giving back. That pushes me forward."
Back