Two Distinguished Individuals Receive Honorary Doctorates from DePauw
May 18, 2014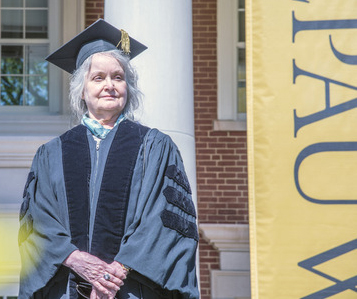 "It is by knowledge, wisely used and with compassion, that the world may be made better and that you as individuals can build a life that is meaningful and rewarding in every sense of the word," said Emilie Savage-Smith as she accepted an honorary Doctor of Letters degree today from DePauw University. A 1962 graduate of DePauw, Savage-Smith is a Fellow of the British Academy and Professor Emeritus of History of Islamic Science and Medicine at Oxford University.
"I thank you, DePauw, for giving us all a very good start in this adventure that we call life," Dr. Savage-Smith added.
A noted scholar in her field, her publications include A New Catalogue of Arabic Manuscripts in the Bodleian Library, Oxford, Volume 1: Medicine; Magic and Divination in Early Islam; Medieval Views of the Cosmos (with E. Edson); and Medieval Islamic Views of the Cosmos: The Book of Curiosities (with Y. Rapoport). She is also on the Council of the British Institute for the Study of Iraq (formerly the British School of Archaeology in Iraq).
Critically acclaimed poet Gjertrud Cecelia Schnackenberg also received an honorary Doctor of Letters degree during this morning's ceremony in Holton Memorial Quadrangle.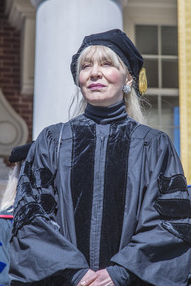 "The work that you have ahead of you now is, in some ways, metaphorically as formidable as carving a block of marble," she told the Class of 2014. "But what I wish for you is that with the work of your life you will be able to reveal the figure in the marble that's waiting for you to see it."
Schnackenberghas been awarded the Academy Award in Literature from the American Academy of Arts and Letters, the Berlin Prize from the American Academy in Berlin, the 2001 Los Angeles Times Book Prize in Poetry, and the Rome Prize in Creative Literature from the American Academy in Rome, as well as fellowships from the National Endowments for the Arts, The Radcliffe Institute, and the Guggenheim Foundation. A graduate of Mount Holyoke College, Schnackenberg's Heavenly Questions won the 2011 International Griffin Poetry Prize.
DePauw's 506 graduates also heard today from actor Kal Penn, and the 2014 winner of the Walker Cup, Sandy Tran.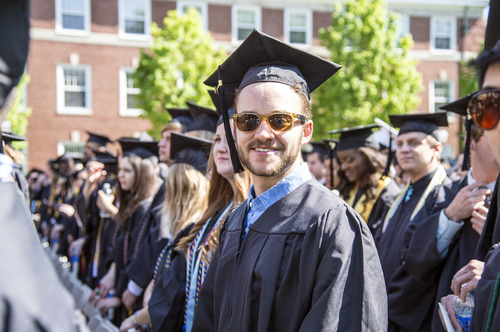 For information on DePauw's 175th commencement, click here.
For a thirteenth consecutive year, DePauw University is offering its graduates-to-be and their families the opportunity to own a DVD capturing the 2014 commencement ceremony and an array of features that capture key moments that have taken place over the past four years. Learn more about the project and order the disc in this summary.
Back