Actor Kal Penn Dispenses Life Advice and Humor in Address to DePauw's Class of 2014
May 18, 2014
Also: Photo Gallery; Webcast Link; Order Commencement DVD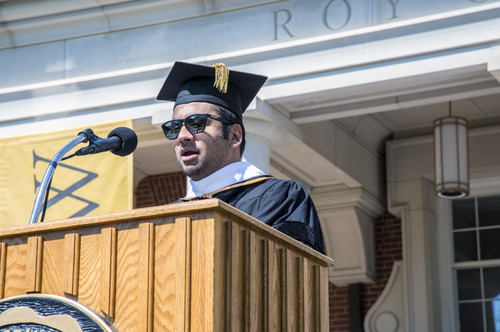 "Choose to be present for each other, even after you leave here today," Kal Penn advised members of DePauw University's Class of 2014 this morning. "Continue to read books, encourage the arts, talk with people who disagree with you, do crazy things, be selfless, share moments of love, remember what matters, do not make it rain," he added.
Penn -- known for his starring roles in TV's House and 24 and in the Harold and Kumar film franchise and the former associate director of the White House Office of Public Engagement -- presented the primary address at the University's 175th annual commencement. The speech included life advice ("Try not let your work be an excuse for missing what really matters") and plenty of humor ("Go to weddings, even if your grandfather doesn't understand how your fraternity brother is getting a husband").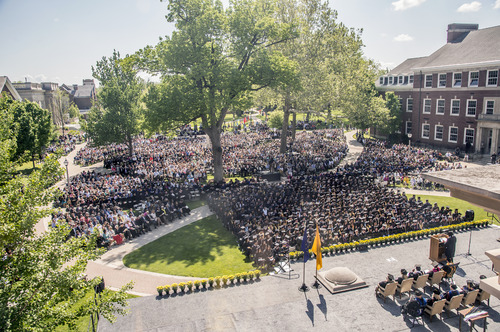 He recalled his own post-college experience -- which he described as "bitter" -- working as a go-fer behind the scenes in Hollywood while feeling frustrated his work toward becoming an actor was all in vain. "Now I look back at those years in terrible apartments, working odd jobs, and I realize I learned a lot," Penn asserted. "I don't think there's such a thing as a waste of time, I just had the wrong attitude."
Penn told the 506 graduates who sat before him in Holton Memorial Quadrangle, "Realize that no one owes you anything, and that hard things are hard." He also advised the new graduates, "Be motivated, but don't worry unnecessarily. And try to understand the difference between those two things."
The actor advised the Class of 2014 to enter the world with open minds and hearts and to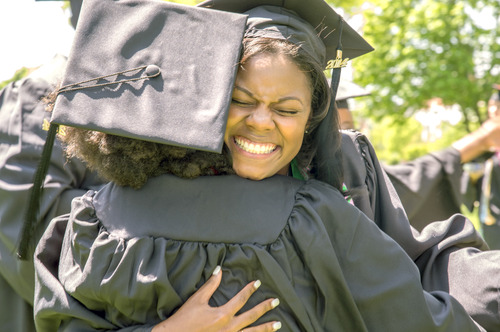 "turn off cable news, the world isn't falling apart." He also observed, "Contrary to what TV sells us, fame is not a profession. Be careful not to confuse fame and status and money with actual things that actually matter -- like happiness and humanity and kindness."
Video of the complete speech is embedded below.
After his address, Penn was awarded DePauw's inaugural University Arts Medal.
Oxford University Professor Emeritus Emilie Savage-Smith and renowned poet Gjertrud C. Schnackenberg were awarded honorary Doctor of Letters degrees at the ceremony.
The program also included remarks by this year's Walker Cup recipient, Sandy Tran '14.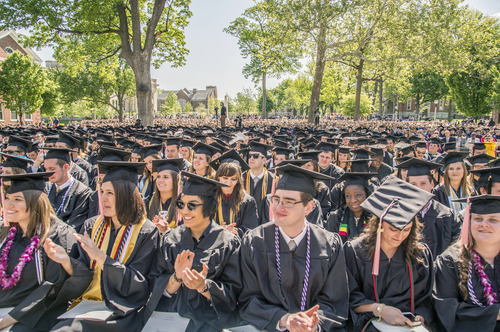 For a thirteenth consecutive year, DePauw University is offering its graduates-to-be and their families the opportunity to own a DVD capturing the 2014 commencement ceremony and an array of features that capture key moments that have taken place over the past four years. Learn more about the project and order the disc using this online form.
Back