DEPAUW UNIVERSITY
CLASS OF 2023 COMMENCEMENT CEREMONY
SUNDAY, MAY 21, 2023 at 10:00 A.M.
EAST COLLEGE LAWN (located outside of the Emison building)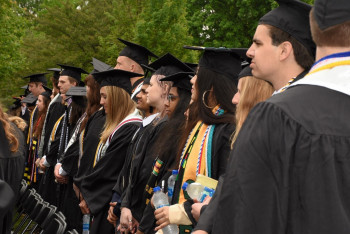 Commencement is a very special ceremony to officially confer degrees and celebrate the academic achievements of all DePauw graduates. Additional information will be shared on this site and through campus email to help ensure that all graduates have a memorable time with family, friends, guests, and the campus community.
REGALIA
Graduates should pick up their regalia (cap, gown, tassel) from Eli's Books. Regalia is required at commencement.
Eli's Books | 6 East Washington Street | Greencastle, IN 46135 | www.depauwshop.com
Important policy related to regalia:
Any additional adornments added to traditional regalia (cap and gown) must represent excellence in higher education and academic performance at DePauw University.

Anything that is raised or that does not denote a positive message on the traditional board (cap) must be removed.
OVERNIGHT LODGING
Guests are encouraged to seek overnight lodging arrangements in Greencastle, IN or nearby towns. Housing will not be available on campus for guests.
ADDITIONAL INFORMATION
Accessibility Accommodations: For questions about accessibility or to request accommodations, please contact Mishelle Malayer at 765-658-4199 or mishellemalayer@depauw.edu by Friday, May 5, 2023.

Professional photos: Commencement day graduate photos will be taken by GradImages. Ordering information and promotions are available on their website.

Inclement Weather: Commencement will take place outside, rain or shine, unless there is a lightning storm. Instructions will be shared as soon as possible if we have to move indoors.
SCHEDULE OF EVENTS:
THURSDAY, MAY 18
5:00 - 7:00 P.M. - SENIOR CELEBRATION WITH PRESIDENT LORI S. WHITE AND DR. ANTHONY TILLMAN
The Elms, 125 Elm Street
On the evening of Thursday, May 18, the Class of 2023 is invited to join President White and First Gentleman Anthony Tillman to celebrate their upcoming graduation! The fun will last from 5:00-7:00 pm at the President's residence at 125 Elm Street.
In addition to delicious food, we are anticipating an evening filled with music, laughter, camaraderie, and a special toast to the Class of 2023.
FRIDAY, MAY 19
10:00 A.M. - NOON - COMMENCEMENT REHEARSAL
Lilly Physical Education and Recreation Center, Neal Fieldhouse
Rehearsal will be held for all graduates in the Lilly Physical Education and Recreation Center on Friday, May 19 at 10:00 a.m. Graduates should start arriving at Neal Fieldhouse at 9:45 a.m. and sit in their assigned rows (please see emails from the University Marshal for additional details).
SATURDAY, MAY 20
4:00 P.M. - BACCALAUREATE
Green Center for the Performing Arts, Kresge Auditorium.
The Baccalaureate Ceremony is the first formal event of Commencement Weekend, during which President White offers a formal address to the graduating class. Students and faculty members dressed in academic regalia are encouraged to participate in this multi-faith celebration of the Class of 2023. This gathering is an inclusive celebration, featuring music, readings, prayers and reflections from a wide range of perspectives. It is an opportunity to pause in gratitude for those who have supported students along their journey, and to honor the important transition from student to graduate. Family & guests should be in their seats by 3:45 p.m. (no tickets required). Graduates should wear their cap and gown and should line up in the west lower level of the Green Performing Arts Center by 3:45 p.m. (please start arriving by 3:30 p.m.).
Live stream: depauw.edu/stream
8:00 -10:00 P.M. - DEPAUW UNDER THE STARS
Stewart Plaza and East College lawn
An evening of music and conversation for graduates and their families/guests.
SUNDAY, MAY 21
10 A.M. - COMMENCEMENT CEREMONY
East College lawn - outside of Emison Building
Tickets are not required for the outdoor ceremony, but will be necessary if we have to move commencement indoors (only in the event of inclement weather). Each graduate can reserve up to 7 e-tickets for their family and guests (please only reserve the number of tickets that you actually will need, if less than 7). To reserve and download the inclement weather e-tickets, please use this EventBrite link by Monday, May 15th at 4:00 p.m. (NOTE: Your student ID number is your access code for e-tickets). Please make sure that you give your family and guests the e-tickets before the day of the commencement. For EventBrite/ticketing questions, please contact Joe Novak at joenovak@depauw.edu.
Family and guests should be in their seats by 9:45 a.m. The processional line up for graduates occurs from 9:15 a.m. to 9:30 a.m. (please see emails from the University Marshal for details).
Live stream: depauw.edu/stream
After the commencement ceremony, faculty and graduates will recess to the Stewart Plaza area for a reception with family and guests. Faculty will gather in department areas on the nearby East College lawn. Light refreshments will be served.
ALL ARRANGEMENTS ARE SUBJECT TO CHANGE.
GRADUATES WILL BE NOTIFIED VIA CAMPUS EMAIL.
THANK YOU!
---
COVID-19 Information
We ask that all attendees of commencement celebration activities be aware of the symptoms associated with COVID-19. Current Community Mask Usage Policy:
Masking with KF94, KN95 or N95 masks is recommended throughout campus in all spaces, but not required, regardless of COVID-19 vaccination status. *Proper use of KF94, KN95 or N95 masks is effective in reducing the risk of COVID-19 infection to the mask wearer. For more information, visit this American Medical Association site regarding masking.

Masking with KF94, KN95 or N95 masks is required for ANYONE who: is experiencing symptoms that could be consistent with COVID-19; tested positive in the last 10 days; or was exposed to COVID-19 in the last 10 days.

For events and speakers: If contractually obligated for particular speakers or performers, the university may make a temporary adjustment to the masking procedures.
We appreciate your continued patience as we work to plan special celebrations.
Health and safety protocols will be in place per campus guidelines.
Thank you!