DePauw University
CLASS OF 2022 COMMENCEMENT CEREMONY
Sunday, May 22, 2022 at 10:00 a.m.
East College Lawn (located outside of the Emison building)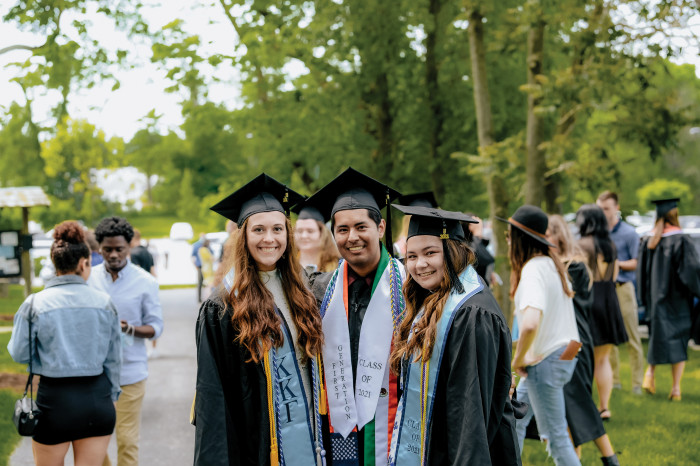 Commencement is a very special ceremony to officially confer degrees and celebrate the academic achievements of all DePauw graduates. The information shared below will help ensure that all graduates have a memorable time with family, friends, guests, and the campus community.
Ordering Regalia
Graduates can order regalia (cap, gown, tassel) from Eli's Books. The deadline to place an order is Monday, March 14, 2022 to ensure timely delivery. If you missed the deadline, contact the store manager, Andrew Bowman, to seek other options. Regalia is required at commencement. Additional items (rings, announcements, and custom diploma frames) can be ordered as well.
Eli's Books | 6 East Washington Street | Greencastle, IN 46135 | www.depauwshop.com
Important policy related to regalia:
Any additional adornments added to traditional regalia (cap and gown) must represent excellence in higher education and academic performance at DePauw University.
Anything that is raised or that does not denote a positive message on the traditional board (cap) must be removed.
Overnight Lodging
Guests are encouraged to seek overnight lodging arrangements in Greencastle, IN or nearby towns. Housing will not be available on campus for guests.
Additional information
Accessibility Accommodations: For questions about accessibility or to request accommodations, please contact Student Accessibility Services at 765-658-6267 or studentaccessibility@depauw.edu by Friday, May 6, 2022.
Professional photos: Commencement day graduate photos will be taken by GradImages. Ordering information and promotions are available on their website.
Inclement Weather: Commencement will take place outside, rain or shine, unless there is a lightning storm. Instructions will be shared as soon as possible if we have to move indoors.
*********************************
Schedule of Events:
Friday, May 13
11:00 a.m. until 2:00 p.m. - Senior Cap and Gown Day
Stewart Plaza
Enjoy refreshments and resources.
Win DePauw swag once they verify completion of their Commencement Clearance Checklist.
(Rain location: Julian Science & Mathematics Center, atrium)
Friday, May 20
10:00 a.m. - noon - Commencement Rehearsal
Lilly Physical Education and Recreation Center, Neal Fieldhouse
Rehearsal will be held for all graduates at Lilly Physical Education and Recreation Center, Neal Fieldhouse (more details forthcoming from the University Marshal)
Saturday, May 21
4:00 p.m. - Baccalaureate
Green Center for the Performing Arts, Kresge Auditorium.
The Baccalaureate Ceremony marks the first formal event of Commencement Weekend. Historically a religious worship service, Baccalaureate at DePauw includes prayers and readings from many traditions, as well as inspiring music and reflections. The President will also offer a formal address to the graduating class. Tickets are required for family members, with overflow seating available in Moore Theatre. Tickets will be distributed at Commencement rehearsal on Friday, May 20.
Live stream: DePauw University - Home (stretchinternet.com)
8:00 - 10 p.m. - DePauw Under the Stars
Location update: Hoover Hall and the Union Building Living room
An evening of music and conversation for graduates and their families/guests.
Sunday, May 22
10 a.m. - Commencement ceremony
East College lawn
Tickets are not required for the outdoor ceremony. Inclement weather tickets will be issued to graduates.
(outside of Emison Building - Note: graduates processional line up will begin at 9:15 a.m. - more details forthcoming from the University Marshal)
Live stream: DePauw University - Home (stretchinternet.com)
All arrangements are subject to change. Students will also be notified via campus email.
Thank you!
---
COVID-19 Information
We ask that all attendees of commencement celebration activities be aware of the symptoms associated with COVID-19 and refrain from attending if they are symptomatic or test positive for COVID-19 in the six days prior to the event. We encourage all attendees to be vaccinated against the COVID-19 virus or tested for COVID-19 prior to the events. Masking (with surgical, KF94, KN95, or N95 masks) will be required at all large indoor events and gatherings. Signs will be posted at events where masking is required and ushers will have masks available for those who have not supplied their own.
We appreciate your continued patience as we work to plan special celebrations.
Health and safety protocols will be in place per campus guidelines.
Thank you!