Vernon Jordan '57 to Receive Hubert H. Humphrey Public Leadership Award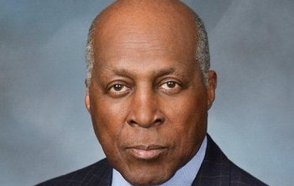 June 11, 2014
Vernon E. Jordan Jr., former president of the National Urban League and 1957 graduate of DePauw University, will be presented with the 2014 Hubert H. Humphrey Public Leadership Award at a ceremony on June 25. Given by the Humphrey School of Public Affairs at the University of Minnesota, "the award honors individuals who have made critical contributions to the common good through leadership and service."
Jordan will be recognized "for a lifelong commitment to standing up and speaking out for social justice, and building critical institutions dedicated to the promotion of civil rights," according to the Humphrey School.
Others who will be honored at the event include former U.S. Sen. Howard Baker; General Mills for its commitment to diversity and equity; Chandra Smith Baker, president and CEO of Pillsbury United Communities; and Sherri Knuth, policy and outreach manager for the League of Women Voters Minnesota.
Learn more here.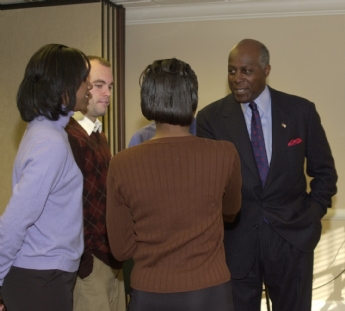 An attorney and legendary civil rights leader, Vernon Jordan served as an adviser to President Bill Clinton and was executive director of the United Negro College Fund, Inc.; director of the Voter Education Project of the Southern Regional Council; attorney-consultant, U.S. Office of Economic Opportunity; assistant to the executive director of the Southern Regional Council; Georgia Field Director of the National Association for the Advancement of Colored People; and an attorney in private practice in Arkansas and Georgia. A political science major as an undergraduate, he is a former member of DePauw's Board of Trustees. (photo: Jordan chats with DePauw students during a campus visit)
Jordan has twice presented the commencement address at DePauw, in 1973 and 1993. Vice President Humphrey visited campus on September 1, 1967.
On November 18, 2011, Vernon Jordan introduced Clinton as the former president delivered DePauw's 25th anniversary Ubben Lecture. A summary of the event can be accessed here; video of the introduction is embedded below.
Back