Vice President Hubert H. Humphrey Visits DePauw
September 1, 1967
September 1, 1967, Greencastle, Ind. - Vice President Hubert H. Humphrey was among those who gathered on the campus of DePauw University today to pay tribute to retiring Indiana area Bishop Richard C. Raines. Approximately 800 people filled Gobin Methodist Church to hear the vice president's remarks. Also on hand were U.S. Senators Birch Bayh and Vance Hartke, as well as 600 Indiana Methodist ministers. Bishop Raines will retire next year after 20 years leading the state's Methodists.
After hearing Humphrey's 35-minute-long tribute, the bishop joked that the vice president's eloquence had "almost thou persuadeth me to become a Democrat." Raines told the gathering that Humphrey will get his "just reward" someday. "Of course, the Democrats hope he gets it next year. But the Republicans hope he gets it in the hereafter," the bishop declared.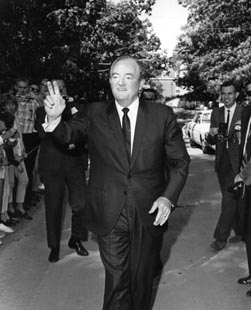 After his speech, the vice president and the two senators waded through a crowd that gathered outside of Gobin. By one estimate, Humphrey shook some 300 hands in a matter of minutes.
The vice president's helicopter landed near Blackstock Stadium, where he was greeted by DePauw's football team. Upon leaving Greencastle, Humphrey went to Indianapolis to deliver a speech on the Vietnamese elections, an event which is being hosted by Eugene C. Pulliam '10.
It's the second time in ten years that the University has been visited by a sitting vice president. Richard M. Nixon came to DePauw in 1957 to address a Business and Industry Day luncheon. He also received an honorary degree.
Back