"I Would Return to This Place," 1957 Graduate Vernon Jordan Tells Class of 1993
May 22, 1993
Also:

[Download Video: "WTHR Coverage of Commencement" - 12,144kb]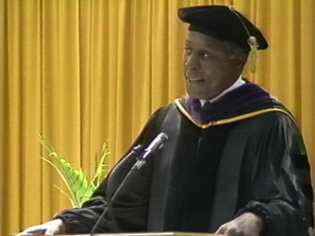 May 22, 1993, Greencastle, Ind. — "I was the only black in my class and there were only five blacks in the entire school," civil rights leader and 1957 DePauw graduate Vernon E. Jordan Jr. told the University's Class of 1993 at today's commencement ceremonies. "The black barber in town would not cut my hair. I could not join a fraternity. Social mobility was limited," Jordan said to the graduates, faculty and parents who packed East College lawn this afternoon.
The man who chaired Bill Clinton's presidential transition team continued, "Despite sometimes inconvenient circumstances, I received an excellent education here. DePauw expanded my mind, broadened my horizons, lifted my sights, prepared me to serve and to lead and nurtured my growth and maturity. I made lasting friendships here," Jordan stated. "If I had my life to live over again, I would return to this place."
A total of 518 DePauw seniors received degrees today.
Jordan, who also provided DePauw's commencement address in 1973, was awarded the McNaughton Medal for Public Service at the ceremony. The medal was established in memory of John T. McNaughton, a 1942 DePauw graduate who later attended the Harvard University School of Law as a Rhodes Scholar, and was appointed Secretary of the Navy shortly before his tragic death in a plane crash. Jordan -- who has served as president of the National Urban League, executive director of the United Negro College Fund and as field director for the National Association for the Advancement of Colored People (NAACP) -- received the medal based on his lifelong commitment to public service.
Four DePauw alumni were given honorary degrees for their achievements: banking industry leader John W. Alford '35 was named a Doctor of Humane Letters; internationally recognized artist and lecturer Mary Beth Edelson '55 received a Doctor of Fine Arts; international business consultant C. Hirotsugu Iikubo '57 was named a Doctor of Humane Letters; and advertising and publishing executive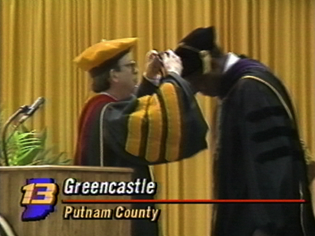 Sal F. Marino '42 received a Doctor of Letters.
Two retiring faculty members were also honored at today's event: Keith M. Opdahl, professor of English who came to DePauw in 1967, and Maria J. Falco, professor of political science, who arrived at the University in 1986.
Today's commencement program was covered by Indianapolis NBC affiliate WTHR:

[Download Video: "WTHR Coverage of Commencement" - 12,144kb], WRTV (ABC):

[Download Video: "Two WRTV Pieces" - 9833kb], and CBS outlet WISH:

[Download Video: "WISH News Clip" - 1612kb].
Back