Ian Rolland '55 Lauded for "A Lifetime of Giving Back"
July 11, 2014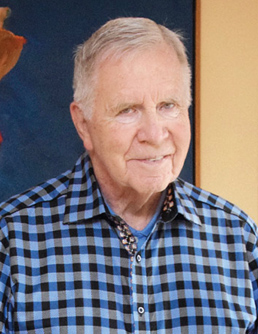 "Where does one begin to write about Ian Rolland, a legend in Fort Wayne, and an inspiration to many?," asks Glo magazine, which is distributed in that city. "Prior to his retirement in 1998, Ian served as chairman and CEO of Lincoln National Corp. He and his wife, Mimi, believe in giving back to the community as caring philanthropists, advocates for children's education and supporters of historic preservation." (top photo by Bonnie Manning)
Judi Loomis writes, "They are one of the most influential and philanthropic couples in the area, making major contributions to Junior Achievement, University of Saint Francis, DePauw University and establishing the East Wayne Street Center."
In the piece -- headlined "A Lifetime Of Giving Back" -- Rolland, a 1955 graduate of DePauw and the past chair of the University's Board of Trustees, says, "I have mentored women throughout my life by pushing away barriers to their success, mostly caused by men. My view is that companies shortchange themselves by not providing good opportunities for women, which ends up short-changing everyone in the end."
Access the feature at the publication's website.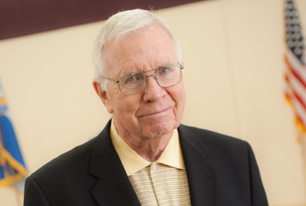 In 2012, Ian M. Rolland received the Sachem Award, the state of Indiana's highest honor. In 2011, he was inducted into the Indiana Conservation Hall of Fame and was presented with the Council for Advancement and Support of Education (CASE) 2011 Distinguished Friend of Education Award.
A gift from Rolland and his wife created the Ian and Mimi Rolland Welcome and Activities Center, which was dedicated on April 21, 2006. It serves as a trailhead building for groups entering the DePauw Nature Park, where they can receive orientation and plan their activities.
A tribute video created in 1998 for Rolland's retirement is embedded below.
Back