President-Elect Mark McCoy Promises to Build Upon the "Good Work" of DePauw, Which "Changes the World"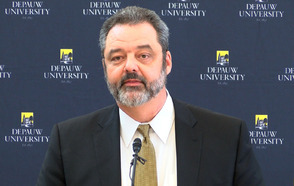 March 8, 2016
"DePauw changes the world, and our good work must continue," D. Mark McCoy said this morning to DePauw University students, faculty, staff and friends of the college, hours after he was announced as the institution's twentieth president. "So let us begin."
Speaking at a reception held in the Great Hall of the Judson and Joyce Green Center for the Performing Arts, Dr. McCoy stated, "I look forward to embracing, continuing and furthering our work on diversity and inclusion because we live -- and indeed our students evermore so will live -- in a diverse world. I look forward to listening to and learning from each of and to supporting and expanding our academic commitment and vision, because we are, above all else, an academic institution. I look forward to finding those ways that make a DePauw education possible so that students from all socioeconomic backgrounds can share in this one-of-a-kind, life-changing experience that we provide."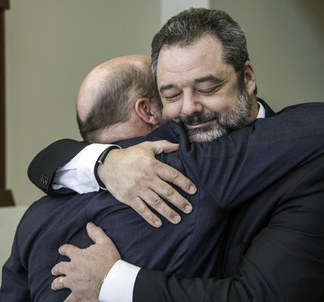 He continued, "I look forward to joining, continuing and expanding the good work of so many as we continue to make Putnam County a great place to live, DePauw a great place to learn and to work, and our community and the work we do within it a place of which we are all proud." (at left: President Casey and President-elect McCoy exchanged a hug after the program)
McCoy, who has served as dean of the DePauw School of Music since August 2011, was selected after a national search led by a committee of DePauw alumni, faculty, students and administrators. He will succeed Brian W. Casey, who is leaving at the end of the current academic year to become president of Colgate University in New York.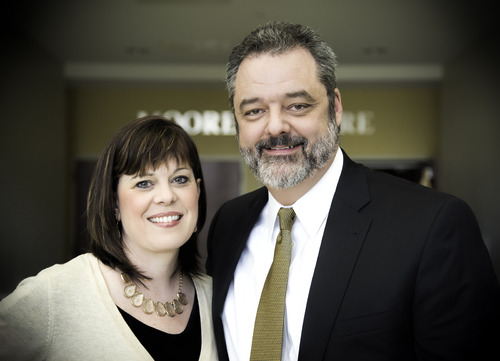 Kathy Patterson Vrabeck '85, who chaired the search committee, praised her 18-member group for working "tirelessly" on behalf of DePauw with assistance from the search firm Isaacson, Miller. (at right: Dr. McCoy and his wife, Lisa)
"We've had tremendous candidates along the way, including our most tremendous, Mark McCoy," she stated. "Dean McCoy entered the process with everyone else in the fall ... and as we got into the semifinalist round it became very clear that our next president was already here," Vrabeck noted. "When he talked about all the things that we asked all of the candidates to speak about: their commitment to liberal arts,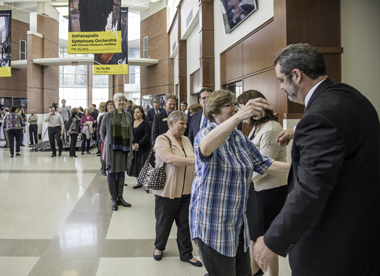 their absolute endorsement of academic rigor, the need to maintain close town-gown relationships, the importance of creating an inclusive campus where everyone comes together and lives as one community." (at left: a receiving line awaits a moment with the new president)
The committee's selection of McCoy as the next president was confirmed yesterday afternoon in a unanimous vote by DePauw's Board of Trustees. The chair of the board, Marshall Reavis '84, delivered opening and closing remarks at the brief program, video of which is embedded below.
Last night's official announcement of Mark McCoy's appointment is available here.
McCoy is the third member of DePauw's faculty to rise to the presidency in the University's 179-year history, and the first since 1896 (the others were John P.D. John, 1889-95, and Hillary A. Gobin, 1896-1903).
Back