Newspaper Features Polly Hicks '54 & the Terre Haute Bridge Club
January 29, 2018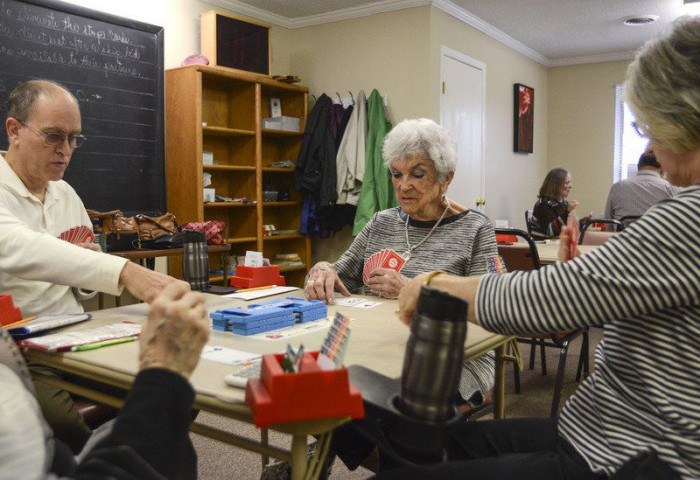 "It's a difficult game," Polly Hicks, the longest-serving member of the Terre Haute Bridge Club tells that Indiana city's Tribune-Star. "You can't learn it in a few weeks or a few years. It's probably the most difficult card game there is. But it's a fun game." (Hicks, at center of photo by Austen Leake, ponders her next move)
A feature on the club, which is more than 50 years old, notes that the 85-year-old Hicks began playing bridge as a seventh grader after learning the game from her parents. Mark Bennet writes, "She continued playing while a student at Wiley High School and then at DePauw University in Greencastle, along with her sorority sisters."
Pauline "Polly" O'Rear Hicks, a 1954 DePauw graduate, tells the newspaper, "Anytime we had a few free minutes, we'd play bridge." She recalls games in which her sorority sisters would play theur fathers when they visited campus. "We would take them to the cleaners," she states.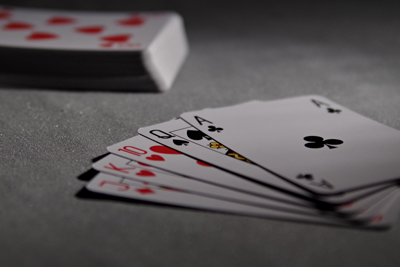 Bennett reports, "She was part of a group of players in the 1960s that formed the club, officially known as Terre Haute Bridge Inc. ... At its zenith, the club drew nearly 200 active players from as far away as Vincennes and Charleston, Illinois, had a paid manager and directors and scheduled games seven days a week. Today, about 75 players participate regularly, with games on Monday afternoon and evening, Tuesday nights, Wednesday mornings and Friday afternoons, Holt said. Volunteers fill the manager and director roles, and the $5 per-game player's fee funds club operations."
You'll find the complete text at the paper's website.
Source: Terre Haute Tribune-Star
Back