Student, Faculty & Staff Excellence Celebrated at University Awards Convocation
May 4, 2018
Peter Gorman is the 2018 recipient of DePauw's Walker Cup, which is awarded to the senior who has contributed the most to the University community during their four years on campus. A Posse and Bonner Scholar from Chicago, Gorman was presented with the award this evening by President D. Mark McCoy at the annual University Awards Convocation, which took place in historic East College, Meharry Hall.
The Walker Cup recipient is chosen by nomination and recommendation of Student Academic Life staff, the members of the senior class and the chairs of the University's academic departments.
Gorman is a Civic Fellow, the president and co-founder of DePauw First, vice president of diversity and inclusion for the Interfraternity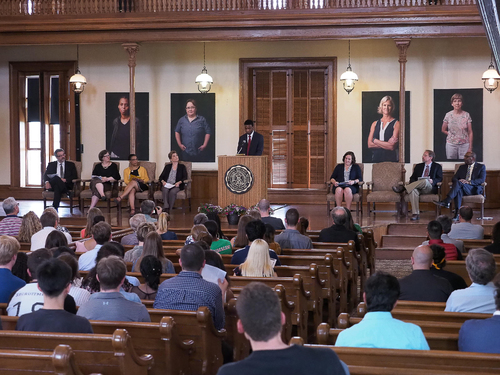 Council, president of the DePauw chapter of Timmy Global Health, and a coordinator for DePauw Community Service, among other activities. A global health major, he plans to work toward a master's degree in public health and eventually attend medical school.
"I would like to point out that Bonner Scholars are expected to engage in 10 hours of community service every week during the semester plus an additional 280 hours over two separate summers. This year's winner was a lateral entry in the Bonner program during the spring semester of his sophomore year. That means that he would have only been required to do a total of 1260 hours during his 2.5 years as a Bonner, but he exceeded the minimum by over 200 with 1,478 hours. His experiences with Winter Terms in Ecuador, Cuba and The Dominican Republic paired with his abroad studies in Switzerland and Morocco do not quantify even half of the countries where he has visited. His intense commitment to academic studies and extensive travels paired with his kind, serving and altruistic nature makes every person who meets him feel impressed and inspired. Finally, he has a heart for two things --healthcare and helping others. I just learned on Wednesday over dinner that he will begin a post-baccalaureate program at Johns Hopkins in the fall which will undoubtedly lead directly into his medical schooling there the following year."
Elizabeth "Liz" Aguilar, was awarded the Ferid Murad Medal,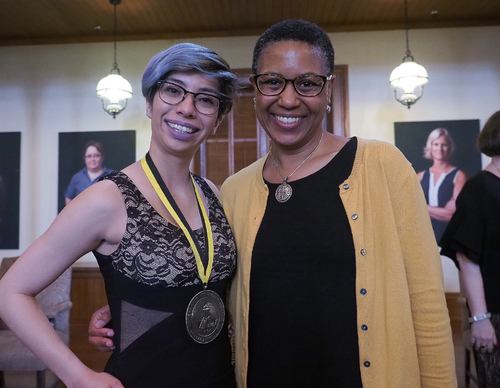 which has been given since 2014 to the senior who has had the most significant scholarly or artistic achievements during their time at DePauw. (at right: Aguilar with Tamara Beauboeuf, dean of faculty and professor of women's, gender, and sexuality studies)
The child of Latin American immigrants, member of the LGBTQ+ community and a first-generation college student, Aguilar is a biochemistry major and Bonner Scholar at DePauw. They will continue studies at the University of Washington, with plans to major in genome sciences, focusing on computational biology with a dual master's in data science.
The senior "has pursued research nearly every summer and presented at a national conference," noted President McCoy, and has been awarded a Goldwater Scholarship -- the most prestigious undergraduate award for students in science, technology, engineering and mathematics -- and a National Science Foundation Graduate Research Fellowship to support a Ph.D.program in genome sciences at the University of Washington - Seattle.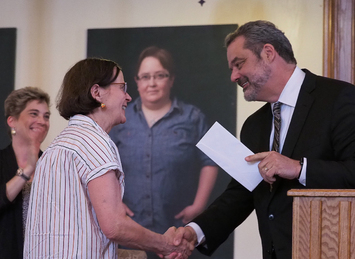 Dr. Murad, a 1958 graduate of DePauw, won the Nobel Prize in Medicine in 1998 and is a professor at George Washington University's School of Medicine and Health Sciences.
Faculty and staff excellence were also recognized and celebrated at the convocation.
Marion K. "Marnie" McInnes, professor of English and women's, gender, and sexuality studies, was announced as the 2018 recipient of the Mr. and Mrs. Fred C. Tucker Jr. Distinguished Career Award.
Presented annually by the president of the University to one or more senior members of the faculty since 1988, the Tucker Award is designed to recognize the achievements of those faculty members who have made notable contributions to DePauw by their commitments to students, teaching excellence, their chosen disciplines, and service to the University.
A member of the DePauw faculty since 1981, Dr. McInnes has taught courses in literature, writing, and women's studies, including topics courses such as Women and War, Women Poets and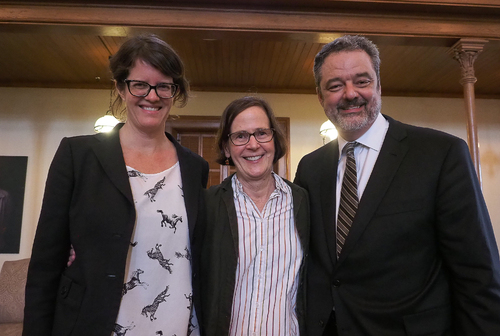 Photographers, and Literature and Photography. From 1997 to 2009, she served as associate dean of academic affairs and dean of academic life.
Jinyu Liu, associate professor of Classical Studies, was presented with the Edwin L. Minar Jr. Scholarship Award. Established in 1981, the Minar Award is presented in recognition of exceptional scholarly achievement by a faculty member and is named in honor of its first recipient, a former professor in the department of classical studies.
Meredith Brickell, associate professor of art and art history and chair of the department, is this year's recipient of the G. Bromley Oxnam Award for Service. Named after DePauw's thirteenth president (1928-1936), the award was created in 2009 by a gift from Neal B. Abraham,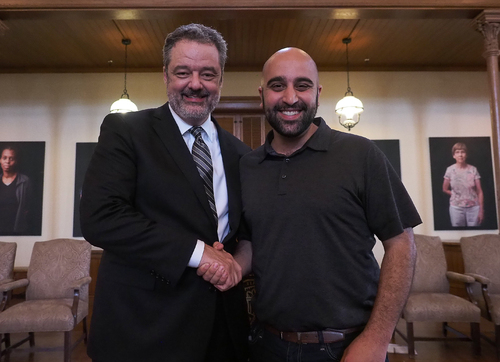 who served as DePauw's executive vice president, vice president for academic affairs and professor of physics from 1998 to 2009, and his wife, Donna L. Wiley. (above photo: Profs. Brickell and McInnes with President McCoy; at left: Dr. McCoy with Abtahi)
The Staff Member of the Year Award went to Matt Abtahi, assistant director of DePauw's Christian Center for Diversity and Inclusion. The winner of that honor is selected and presented by DePauw Student Government to recognize significant contributions of a staff member to student organizations and student life.
Back