Campus Living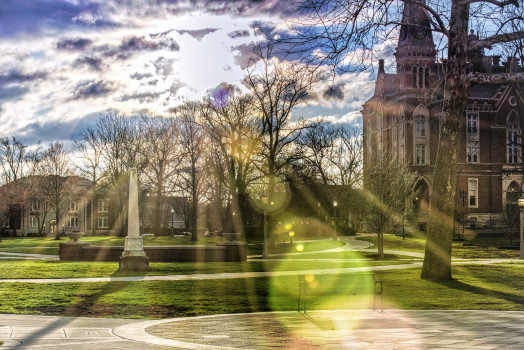 Living & learning together on a vibrant campus
All DePauw students live on campus. This offers students the unique experience of truly integrating your in-class learning with your out-of-class activities. There is a wide range of housing within our residential college, including residence halls, Greek chapters, suites, apartments and houses. Combined with a wealth of campus activities and student organizations, DePauw offers a uniquely robust co-curricular experience.
Explore our residential communities here at DePauw University, including information about First-Year Residence Halls, and upperclass housing for Sophomore students, for our Juniors and Seniors, as well as housing for our Greek-affiliated students.
Guiding Principles for How We Live at DePauw
DePauw is a fully residential liberal arts college that fosters opportunities for
members of the community to live and learn with and from each other.
Campus and its facilities should be vibrant and conducive to building intellectual community, scholarship, and social interaction among students, faculty, and staff.
The residential experience should allow students to move from exploration in their first year, to engagement in the sophomore year, and finally toward experience and integration as juniors and seniors.
Living in community should contribute to identity formation and foster responsibility; therefore DePauw should encourage and expect students to be members of several dynamic communities including, but not limited to, their class year, student groups, academic programs, residential units and the larger DePauw, Greencastle, and global society.
DePauw students should be part of a diverse community that encourages engagement with those who possess different temperaments, talents, and convictions, with a goal of mutual respect.
Students should develop shared experiences and participate in traditions across the university that encourage a lasting connection to DePauw.
These Guiding Principles were written by the Student Life and Academic Atmosphere Committee (SLAAC). SLAAC is a committee of students, faculty, and staff that are responsible for the policies and actions of the faculty relating to student life and general academic atmosphere of the University.


@DePauw_CLCD on Twitter
---
Please join CLCD and your CRAs for a Headshot Photoshoot community event, today 4-6 PM on East College Lawn. Food will be provided! https://t.co/08E281yUe7
2 months ago
Happy Founders Day, Omega Phi Beta Sorority, Inc.! If you would like to learn more about this organization, check out their website: https://t.co/zemsn7C8vN https://t.co/uNEAafJQEz
3 months ago
If you are planning to be on campus during spring break, please complete the application by the deadline! https://t.co/cIREmc7emG
3 months ago
49 years ago
49 years ago
49 years ago
49 years ago
49 years ago
49 years ago
49 years ago
49 years ago
49 years ago