Pre-Law Advising
Jump to Another Section
Skills & Knowledge Pre-Law Course Sequence Applying to Law School Application Materials Application TimelineLaw School Offers
---
Why Law School?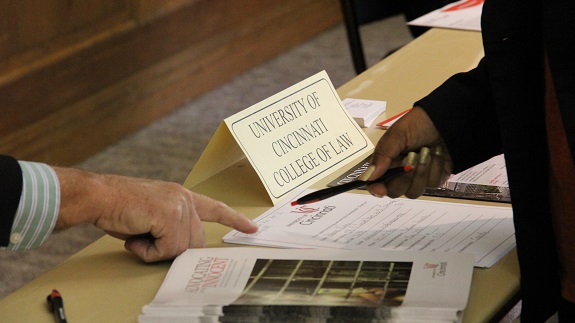 The process to apply to law school is a multi-step process that should take more than a year to complete. In addition to becoming an attorney in diverse fields, law school graduates also have additional career paths open up to them. Professionals with a law degree work can work in non-profit management, health care, politics and public service. Additional career opportunities exist in industries where knowledge of the law is crucial to an organization's operations and, ultimately, its success. Schedule an appointment with the Hubbard Center's Pre-Law Adviser to learn more about the available opportunities for you.
---
Law School Admissions Numbers
@HubbardCenter on Twitter
---
Jenniffer Behrens '11, current student at IU Medical School, will be at the Advising Bar tomorrow from 3-5 to answer questions!!
yesterday
TODAY is the 1st Real World event! Come to the Ballroom @ 6pm for an alumni panel sharing their strategies to plan for life after graduation
2 days ago
Visit http://t.co/du8SDxMHF3 to learn about IU's MSW program. Priority deadline for is Jan. 30. Final deadline May 1, 2015.
2 days ago
SENIORS: Come to the Real World event TOMORROW 6pm in the Ballroom for an alumni panel sharing strategies to plan for life after graduation!
3 days ago
RT @DePauwPrindle: #DearDePauw: What's it All About? http://t.co/U0xMZ1X42x
9 days ago
MBAs from IU, Notre Dame & Purdue rank among Businessweek's top 8 in nation for return on investment. http://t.co/GnGGUGjrcP
9 days ago
44 years ago
44 years ago
44 years ago
44 years ago
44 years ago
44 years ago
44 years ago
44 years ago
44 years ago