Pre-Law Advising
Jump to Another Section
Skills & Knowledge Pre-Law Course Sequence Applying to Law School Application Materials Application TimelineLaw School Offers
---
Why Law School?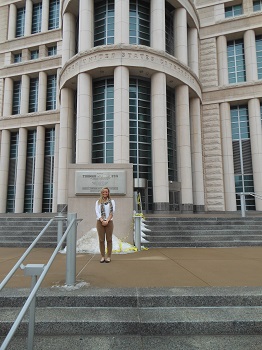 The process to apply to law school is a multi-step process that should take more than a year to complete. In addition to becoming an attorney in diverse fields, law school graduates also have additional career paths open up to them. Professionals with a law degree work can work in non-profit management, health care, politics and public service. Additional career opportunities exist in industries where knowledge of the law is crucial to an organization's operations and, ultimately, its success. Schedule an appointment with the Hubbard Center's Pre-Law Adviser to learn more about the available opportunities for you.
---
Law School Admissions Numbers
@HubbardCenter on Twitter
---
Juniors, check out reasons why you should consider study abroad your senior year. http://t.co/sfTgNmvwzP #depauwstudyabroad #hubbardgoals
16 hours ago
Comm majors! Learn about study abroad programs with courses & internships in your major. Tomorrow at 11:30 in GCPA 1202 #DePauwStudyAbroad
17 hours ago
Join Intercultural Life & Hubbard Center for talk on navigating one's identity while studying abroad. Nov. 4, 4 p.m., Ctr for Spiritual Life
23 hours ago
Grab lunch and had over to Harrison, Room 101 to learn about Studying Abroad in Psychology @ 11:35 a.m.–12:35 p.m. today #hubbardhappenings
2 days ago
Stop by after lunch and check out The Philadelphia Center Information table in the lobby! 11:30 a.m. – 1:30 p.m. #hubbardhappenings
3 days ago
Athletes on campus for Fall Break.....you don't want to miss this opportunity today!
8 days ago
44 years ago
44 years ago
44 years ago
44 years ago
44 years ago
44 years ago
44 years ago
44 years ago
44 years ago