Monon Bell Classic
The 124th game in the historic DePauw-Wabash football rivalry will take place Saturday, November 11, 2017 at DePauw University.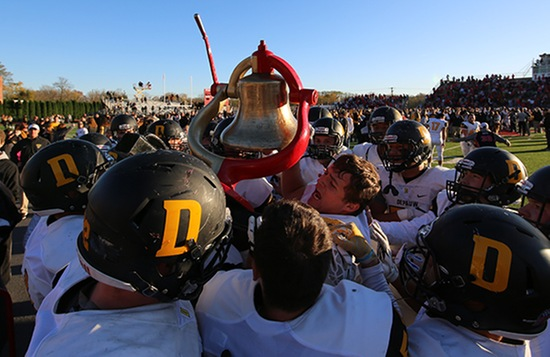 Saturday, November 11

10 a.m.
Dedication of the Justin and Darrianne Christian Center for Diversity and Inclusion (CDI)

10:30 a.m.
CDI Informal Tours and Student-Sponsored Tailgate
The Center for Diversity and Inclusion
10:30 a.m. - 12:30 p.m.
Hamilton Park Tailgate
Featuring War Radio and lead singer LaToshia Everson '04
and food & beverage from Almost Home Restaurant, Blessed Hands Bakery, Chandler Farm & Country Market, Myers' Market and Wasser Brewing Company.
1:07 p.m.
The 124th Monon Bell Classic
Nick Mourouzis Field at Blackstock Stadium

*Tickets to the 2017 Monon Bell game are now available here.*



Monon Bell Telecast Parties
Alumni who can't make it to the game are still able to support the Tigers at one of our Monon Bell Telecast Parties. Listed below are the 2017 Telecast Party sites. Please check back soon for individual event details if your city is not yet linked.
To ensure you receive the DePauw swag that will be available to help cheer on the Tigers, please register by November 1, by emailing alumnioffice@depauw.edu or calling 877-658-2586.

Ann Arbor, MI
Atlanta, GA
Austin, TX
Boise, ID
Boston, MA
Charlotte, NC
Chicago, IL
Cincinnati, OH
Cleveland, OH
Columbus, OH
Cromwell, CT
Dallas, TX
Dayton, OH
Denver, CO
Detroit, MI
Fishers, IN
Forest Park, IL
Fort Wayne, IN



Houston, TX
Indianapolis, IN (21 & Over)
Jacksonville, FL
Jasper, IN
Kansas City, MO
Knoxville, TN
Lexington, KY
Louisville, KY
Los Angeles (Santa Monica), CA
Miami, FL
Milwaukee, WI
Minneapolis, MN
Naperville, IL
Naples, FL
Nashville, TN
New York, NY
Newport Beach, CA
Orlando, FL


Palo Alto, CA
Philadelphia, PA
Phoenix, AZ
Pittsburgh, PA
Portland, OR
Raleigh, NC
Salt Lake City, UT
San Francisco, CA
Sarasota, FL
Seattle, WA
South Bend, IN
Speedway, IN
St. Louis, MO
Tucson, AZ
Vail, CO
Washington D.C.
Woodstock, GA



The 124th Monon Bell Classic will be televised on FOX Sports Midwest and FOX Sports Indiana. It will be streamed free nationally on FOX Sports GO -- via the FOX Sports GO app or website, which can be viewed or downloaded for free at FOXSportsGO.com. The game will also be carried nationally, either live or on tape delay, by FOX College Sports. For detailed channel access/provider information, please see the document here.
@DePauw_Alumni on Twitter
---
#TigerPride is the key! "D" decal available with #Monon swag items for alumni at game day & telecast events. https://t.co/fs02TAKUWr https://t.co/Ua3tA0MJ7f
yesterday
generations of DePauw women. You not only gained access to opportunity, but seized it to perform at the very highest level in claiming national honor for yourselves and for your university.
9 days ago
the admittance of women to DePauw. Although those first women, Alice Allen, Laura Beswick, Bettie Locke, and Mary Simmons likely could not have imagined the competitiveness of modern day NCAA Division III basketball, you are the fulfillment of their hopes
9 days ago
47 years ago
47 years ago
47 years ago
47 years ago
47 years ago
47 years ago
47 years ago
47 years ago
47 years ago