DePauw Cyclists Finish Third at Collegiate National Championships
May 15, 2006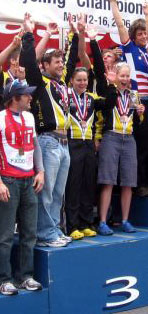 May 15, 2006, Greencastle, Ind. - DePauw University's cycling team finished third in the 2006 USA Cycling Collegiate Road National Championships, which took place Friday through Sunday in Lawrence, Kansas. Whitman College repeated as Division 2 champion with 492 points. Second-place finisher Lees-McRae College wound up with 481. DePauw collected 448 points over the three-day competition.
Several DePauw riders made strong individual showings, as well. Among the women, Carol Hutton was third overall, while Jenna Boyd finished sixth. Phil Mann was #8 and Phil Mooney was sixteenth among the Division 2 men. Second place honors went to Hutton in the road race and Boyd in
the women's criterium; Mann took second in the men's criterium.
"I cannot emphasize how proud I am of our DePauw racers, especially seniors Jenna Boyd [seen at right], Carol Hutton, Phil Mann, and Mark Labedz," says Kent Menzel, associate professor of communication arts and sciences and coach of the cycling team. "Every year the competition at cycling nationals has become more fierce, and every year our riders have stepped up to the challenge. Based on the example set by the seniors, I am confident that sophomore Michelle Couch, and juniors Kraig Kirchner, Ross McEntarfer, and Phil Mooney can take our results to an even higher level next year."
For a recap of the 2006 USA Cycling Collegiate Road National Championships, visit Cycling News.
Back