A Sampling of Prior Academic Years McDermond Programs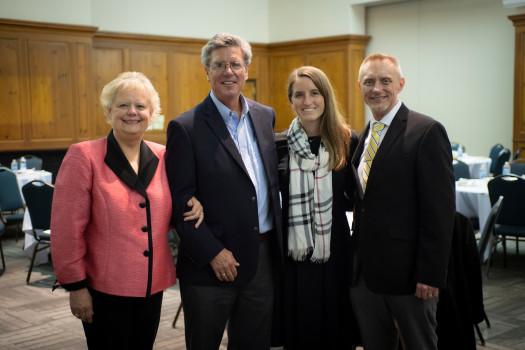 Take a look at just a few of our prior academic year speakers who have shared their wisdom and insights on campus...
INSIGHTFUL Speakers
Jordan Hickam '14
Cyber Solutions Manager, Govramp
Rory Nolan '06
channel sales director, Lenovo
Audrey Gillis Wessman '86
product strategy/Healthcare innovation, Cigna
Allison Taylor '03
President, Medicaid director, Indiana family & social services administration
Peter Ruppert '86
founder & CEO, Fusion Education Group
Robert C. Mcdermond Honorary Lecture
Rick Sund
SEMI-retired NBA executive & senior advisor, Promondo Sports
Kate Leipprandt '84, CFP(R), CHFC, CLU, AEP (DISTINGUISHED) & Elizabeth Grady '14, CFP(R)
MANAGING DIRECTOR/OWNER & FINANCIAL CONSULTANT, BALDWIN FINANCIAL ADVISORS
Jaqueline V. Gaines, ESQ. '01
MAGISTRATE, MONTGOMERY COUNTY, OHIO
Nathan Rice '16
CHIEF REVENUE OFFICER, ENERGY CX
Marvin Flewellen '85
HEAD OF CLIENT MANAGEMENT, INVESTMENTS, INVESCO LTD.
Tom Fitzgerald
MANAGING DIRECTOR, JPMORGAN CHASE & CO
Dr. Anton Thompkins, M.D. '91 & Joy Thompkins '91
ORTHOPEDIC SURGEON & COMPANY OWNER, B. NUTTY LLC.
David Prabhu '18
DIRECTOR, BUSINESS DEVELOPMENT, ARRAY BEHAVIOR CARE
Steve Trulaske '79
owner, true manufacturing
David Blackburn '04
national scout, Baltimore Ravens
Co-Sponsor with sports management & administration group, CDI, athletics
Dave Kimbell '89
President & CEO, Ulta beauty
Darnall alumni fellow
Sallie Barkman '09
Founder, Stayln Social
Young Alumni Discussion
Co-Sponsor with Entrepreneurship Group, CDI, Tenzer Technology Center, Women in Economics & Business
Lora Chio '98
lead, strategy and operations, us immunology, bristol Myers Squibb
Darnall Alumni fellow
CO-SPONSOR Women in Economics & Business
Lawren Mills '01
Partner, public affairs practice group leader, ice miller LLP
Co-Sponsor with PRE-LAW group
CHARLES PIERRE, ESQ '12
LEAD COUNSEL, DATA PRIVACY, FACEBOOK
DARNALL ALUMNI FELLOW
Emily Pence '10
Senior Counsel-Emerging Growth, Molson Coors Beverage Company
Young Alumni Discussions
Megan Casey Glover '04
Co-Founder & CEO, 120water
Robert C. McDermond Honorary Lecture
Ashley Wong '16
Technical Account Manager, Qualtrics
Young Alumni Discussion
Ann Bair '84
Senior Vice President, Financial Services Marketing, Nationwide
Darnall Alumni Fellow
Darrianne Christian '95
Stay at Home Mom, Community Volunteer, Board Member
Darnall Alumni Fellow
Ann Hand '09
President and CEO
Super League Gaming
Darnall Alumni Fellow
Manuel Amezcua '00
President and CEO
MassMutual Great Lakes
Darnall Alumni Fellow
Ben Stringfellow '96
Managing Director
CRA, Inc.
Darnall Alumni Fellow
Rich Bonaccorsi '85
President
Bonaccorsi Wine Company
Entrepreneurship and Innovations Series
Jan Risi '81
CEO
Independent Purchasing Cooperative
Darnall Alumni Fellow
Susan Milinak '84
President
GEM Financial Advisors, Inc.
Darnall Alumni Fellow
Penka Shopova '10
Vice President
BCS Global Markets
Young Alumni Discussions
Westley Huffstutter '97
Mentor, CEO and Investor
Brisbane, Australia
Entrepreneurship and Innovations Series
Jan Tharp
President and CEO
Bumble Bee Foods
McDermond Speaker Series
Paul Booth '04
Lead Pastor/Founder, Legacy Pointe Church
CEO, Momentum Restaurants Inc./McDonalds
McDermond Speaker Series
Projjol Banerjea '06
Founder and Chief Product Officer
Zeotap
Darnall Alumni Fellow
Naheem Muhammed '13
Founder/CEO
DreamT Network
Young Alumni Discussions/Darnall Alumni Fellow
Nicole Pence Becker '06
OwnerPence Media Group
Young Alumni Discussions
Wendi Taylor-Nations '85
EVP & Partner
Hawthorne Strategy Group
Darnall Alumni Fellow
Melinda Haag '81
Director
Crowe LLP
Darnall Alumni Fellow
Leila Hernandez '03
Storyteller/Public Speaker
Co-sponsored with Pulliam Center
Dan Hasler '80
CEO
Purdue Research Foundation
McDermond Honorary Lecture
Peter Ruppert '86
President & CEO
Fusion Education Group
Lee Banks '85
President & COO,
Parker Hannifin Corporation
Darnall Alumni Fellow
Peter Lazaroff '07
Co-Chief Investment Officer
Plancorp, LLC & BrightPlan
James W. Stevenson, Jr. '82
President & Chairman of the Executive Committee
Wiedner & McAuliffe
Mark Boling '79
Founder & CEO
2C Energy
Darnall Alumni Fellow
Maggie Musgrave '11
Corporate Development Manager at LDI, Ltd.
"Focusing your idea and analyzing the competitive environment"
Larry Stimpert
President of Hampden-Sydney College
"Financing Your Start Up"