The McDermond Center at DePauw
"Developing Business-Ready Leaders the World Needs"
The Robert C. McDermond Center for Management & Entrepreneurship helps students blend their business and entrepreneurial spirit with a liberal arts education through a focus on leadership development and experiential learning.
Greetings from Steve Fouty, McDermond Center Director

Fall 2020 McDermond Center staffing schedule:
Monday through Thursday:
The McDermond Center will have one member of our staff in the Center from
9:00 to 5:00
while others continue to work remotely
Friday:
The McDermond Center will have one member of our staff in the Center from
12:00 to 5:00
while others continue to work remotely
Contact information to schedule a virtual or face-to-face meeting:
Steve Fouty, Director - stevenfouty@depauw.edu - (765) 658-4543
Sandy Smith, Manager of Programs & Outreach - swsmith@depauw.edu (765) 658-4024
Professor Jeff Gropp, Director of Management Fellows - jgropp@depauw.edu (765) 658-4024
Sarah Miller, Associate Director of Management Fellows - sarahmiller@depauw.edu (765) 658-4860
MCDERMOND CENTER programs and activities:
| | |
| --- | --- |
| McDermond Center Speaker Series: This speaker series brings over 10 acclaimed industry leaders per year, from a variety of fields, to meet and speak with DePauw students interested in management, business and entrepreneurship. | |
| | Industry Insights Panels: This panel discussion series brings 30-40 experts per year to campus to discuss topics such as consulting, corporate finance, marketing, investment banking, wealth management, supply chain, public affairs, human resources, treasury and real estate. |
| Young Alumni Discussions: This new series brings an alumnus, or panel of alumni, that graduated in the last 3-15 years to share their transition from student to graduate and their successes and struggles in the early years of their careers. The relaxed, interactive format provides extra time for student questions. | |
| | Darnall Industry Tours: Students spend the day off campus at a mid-west city visiting several companies in industries of interest. Recent tours included startup successes, real estate, public affairs and digital marketing companies |
| Entrepreneurial Programming: Key speakers, panels discussions and off-campus visits that offer opportunities for mentoring and gaining insights from today's successful entrepreneurs. Programs include a campus pitch competition, alumni mentors, start-up boot camp (business model canvas creation, market validation, pitch deck advising, pitch presentation skills), strategic networking, and more - all the support needed to turn your business idea into a valid business plan. | |
| | Launch Indy and McDermond/Tenzer Networking Space in Indy, Union 525-FAQ: DePauw's Initial Footprint in downtown Indianapolis where students can network with business leaders, explore specific industry careers, work on real-world projects, interview for internships and jobs upon graduation, meet with alumni, explore the world of innovation and entrepreneurship and more... |
| NEW FOR FALL 2020 - DePauw Innovations (DPUi): DePauw has a long tradition of success in the field of entrepreneurship. From ESPN to Angie's List to First Internet Bank, alumni have put the university on the map through their innovation and creativity. DePauw Innovations is here to continue and build upon this legacy! Sponsored by the McDermond Center and run by students DePauw Innovations essentially functions as a small venture capital firm focusing on the development and funding of startup companies founded by current students, alumni and faculty. With a network of expert mentors and investors from across the country DPUi is well equipped to support startups in whatever capacity needed in order to take them from an idea to the next big ESPN or First Internet Bank. DePauw Innovations brings your business plan into a viable business. | |
| | LAUNCHING IN LATE FALL 2020/SPRING 2021 - DePauw Gold Within Angel Network - Connecting DePauw-related start-ups with the DePauw alumni investor community: A network of DePauw alumni and friends of DePauw that have expressed interest in having the opportunity to review entrepreneur pitch decks/presentations from DePauw-related start-up organizations. |
| Management Fellows Program: The Management Fellows honors program provides highly motivated and talented students education in business, management and entrepreneurship by combining a liberal arts major, specialized business courses and seminars, and a variety of experiential opportunities, including a semester-long internship. | |
MCDERMOND CENTER Student Groups and Workshops:
| | |
| --- | --- |
| | From College to Career (Real World): Your Personal Financial Literacy Workshop: Preparing for financial decisions post graduation workshop. Programs include The Time Value of Saving Money, Your Personal Financial Balance Sheet, Renting vs Buying, Investing for Your Future, Your Credit Score and Budgeting. |
| No Harm In Charm Workshop Soft-skill development workshop. Programs include Interview Skills, Dress for Success, Personal Branding, How to Work a Room, Dining Etiquette and Networking | |
| | In partnership with Indiana University, co-sponsored with the Hubbard Center,and created by DePauw alumnus Phil Schuman: DePauw MoneySmart$ U is a personal financial literacy program designed to help students learn money management skills. Important information and insights to promote financial wellness: Managing money while on campus, student loan minimizing, investing for financial independence, the five components of a credit score, creating an easy budget, making wise financial decisions upon graduation, and more! |
| DePauw Investment Group: DePauw Investment Group is a student-run group that researches investments, hosts speakers, plans strategies and manages part of DePauw's endowment through the Herman Crown Investment Fund. | |
| | DePauw Consulting Group: DePauw Consulting Group is a student-run group that provides consulting services for community businesses, not-for-profits and alumni companies. During each semester they complete specific projects for these organizations. |
| Women in Economics and Business: WEB is a network of students and alumnae committed to the growth and expansion of professional and personal opportunities for its members, with a focus on business and leadership. | |
| | DePauw Marketing Group: The Marketing Group brings in speakers who are successful in the changing world of marketing. They also provide marketing services to business and not-for-profits such as branding, promotional materials and web design. |
| Investment Banking Workshop: The Investment Banking Workshop is a seven-week program aimed at Juniors interested in an investment analyst internship. The program includes guidance from dedicated mentors, exclusive networking events and a series of mock interviews. | |
| | DePauw Entrepreneur Group: The DePauw Entrepreneurship Group provides peer-to-peer and mentor collaboration opportunities for students with startup ideas, as well as providing tools and resources for business model canvas, business plan and pitch deck preparation. (Formerly known as Engaged Entrepreneur Group - EEG) |
| The McDermond Center supports Jobs in Tech 101, TechPoint's resource for Indiana tech careers and participates in their x-Tern Summer Internship Program. | |
The McDermond Center was founded in 1980, the vision of President Richard Rosser, and several dedicated trustees and alumni, including James W. Emison '52, Charles L. Grannon, and Robert C. McDermond '31.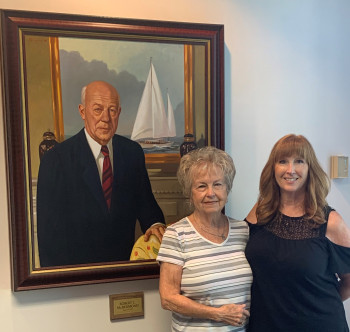 (Portrait of Robert C. McDermond, standing are his daughter and granddaughter in 2019)
Three ideas were fundamental in the creation of the McDermond Center:
A good liberal arts education, in addition to its intrinsic merit, is also excellent preparation for a management career.

New graduates with bachelor's degrees who have no managerial training are at a significant disadvantage in the job market

Practical experiences and internships prove especially useful to students as complements to their academic work.
Thus, for four decades now, the McDermond Center has provided students with an array of programming and learning opportunities, including lectures, networking events, one-on-one alumni mentoring, student group leadership experiences, real-world business projects participation, field trips, access to software tools and training, and internships.
The services and programs offered by the McDermond Center are open to all DePauw students, regardless of year or major.
Alumni are also welcome to participate in programming sponsored by the McDermond Center and to take advantage of the Center's resources.