Classical Studies
The classical studies department approaches the ancient Mediterranean world through the humanistic disciplines of language and literature, history and philosophy, and art and archaeology.
Highlights
Mt. Parnassos above Delphi
After an arduous hike up the steep slopes of Mt. Parnassos, DePauw students perch 800 feet above Apollo's marble shrine and ponder the whim of the gods while yearning for some hometown Marvin's goodness.
A Roman Centurion
Prof. Foss re-enacts the tinnitus (ringing in the ears—it's Latin onomatopoiea) Roman officers would experience after being whacked on the helmet by the club of a Gaulish barbarian.
DePauw Students in Roman Jerusalem
In Jerusalem, DePauw students walk the Roman streets below the walls of the Temple Mount built by Herod.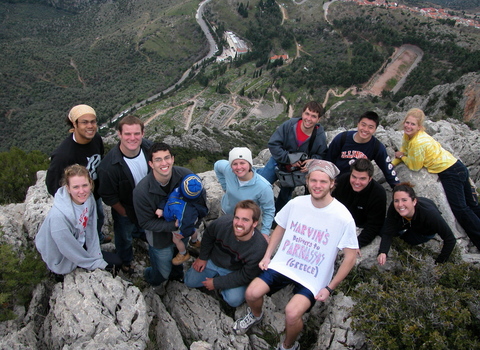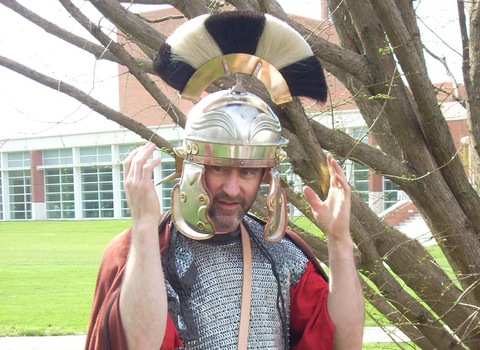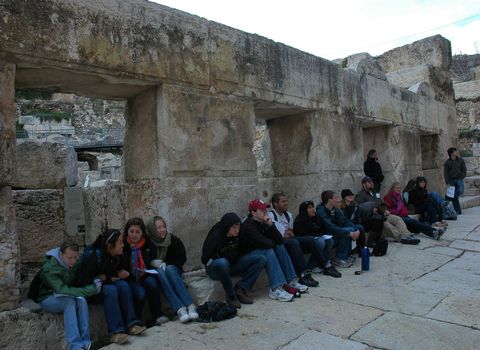 This curriculum focuses on some of the greatest works of the human spirit. It develops logical and creative thought and demands sophisticated analysis of Greek and Roman literary works and cultural monuments. Students in classical studies study overseas in Italy, Greece and Turkey, and regularly participate in archaeological excavations. Classical studies offers majors and minors in Greek, Latin or classical civilization, as well as a minor in classical archaeology. Classical studies majors pursue careers in law, medicine, business, journalism, government, education, theater and the arts.
The Department of Classical Studies endorses the following statement on diversity and inclusion from the Board of Directors of the Society for Classical Studies:
"The mission of the Society for Classical Studies is "to advance knowledge, understanding, and appreciation of the ancient Greek and Roman world and its enduring value." That world was a complex place, with a vast diversity of peoples, languages, religions, and cultures spread over three continents, as full of contention and difference as our world is today. Greek and Roman culture was shared and shaped for their own purposes by people living from India to Britain and from Germany to Ethiopia. Its medieval and modern influence is wider still. Classical Studies today belongs to all of humanity.
"For this reason, the Society strongly supports efforts to include all groups among those who study and teach the ancient world, and to encourage understanding of antiquity by all. It vigorously and unequivocally opposes any attempt to distort the diverse realities of the Greek and Roman world by enlisting the Classics in the service of ideologies of exclusion, whether based on race, color, national origin, gender, or any other criterion. As scholars and teachers, we condemn the use of the texts, ideals, and images of the Greek and Roman world to promote racism or a view of the Classical world as the unique inheritance of a falsely-imagined and narrowly-conceived western civilization."
Sample Courses:
Greek and Latin at all levels; Greek Civilization; Aegean, Egyptian and Near Eastern Archaeology; Greek and Roman Mythology; Ancient Mediterranean World; Impact of Empire; Greek and Roman Law; Archaeology of Ancient Israel