Leah and Rena Dunbar
Teacher Twins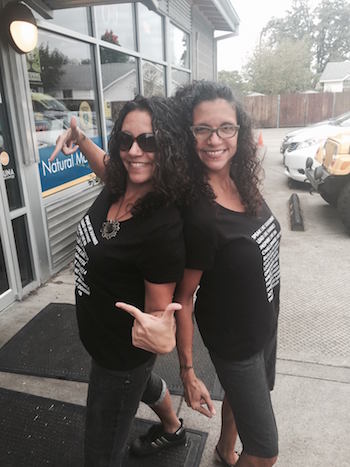 Twin sisters Leah and Rena Dunbar graduated from DePauw in 1994 and are now both teachers in Eugene, Oregon. Together, they teach a course on community-building and listening to encourage students to actively participate in the work of undoing oppression. This is the eighth year of their course, titled Courageous Conversations, based on Glenn Singleton's book that speaks to the development of honest and healthy dialogues about race. Rena and Leah use Singleton's agreements as a conduit to engage students in challenging and productive discussions about not just race, but also gender and class, and other societal issues affecting their students' lives. Leah and Rena both attended the Courageous Conversations Summit in Baltimore, a trip that was funded using crowd sourcing in their community.
Leah earned an MA in Women's Writing from the University of Essex and has taught high school Language Arts in Eugene for the past fifteen years. She is proud of the open-mic she helped create called 'Weapon of Choice: Voice' that ran for ten years in response to the events of Sept. 11. She also was a 2016 recipient of the City of Eugene and Human Rights Commissions' Spirit of MLK Award.
Rena, the oldest twin by thirteen minutes, also teaches Courageous and Flowetry, a Language Arts and math Social Justice curriculum, at ECCO High School, another Eugene high school that empowers marginalized students. Rena also helped create the Peace Village Program at Network Charter Schools, and was awarded the Peace Educator of the Year Award in 2014, by the Nobel Peace Laureate Project.
Both sisters are grateful for the intellectual challenge and the support offered by the Women, Gender and Sexuality Studies program at DePauw, and consider the courses taken with Professor Meryl Altman a highlight of their DePauw experience.