Class of 1961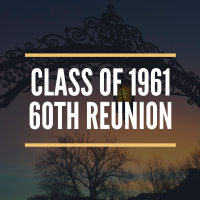 The Class of 1961 is invited to celebrate their 60th reunion leading up to and during Alumni Reunion Weekend 2021, scheduled for June 10-13, 2021.
More information, including class reunion volunteers, schedule details, and participation news, will be updated here in the coming months and on the Alumni Reunion Weekend main page.
If you are interested in getting involved with class reunion planning, please contact the Development and Alumni Engagement team by emailing us at alumnioffice@depauw.edu, and we will connect you to the appropriate team member.
---
Class of 1961 | Reunion Archive
Alumni Reunion Weekend 2016
55th Reunion Chairs
Marletta Farrier Darnall '61, Mike Maine '61, John Null '61, Carole Lee Clark Randall '61 served as the Reunion Chairs for the 55th Reunion during Alumni Reunion Weekend 2016.
---
Alumni Reunion Weekend 2016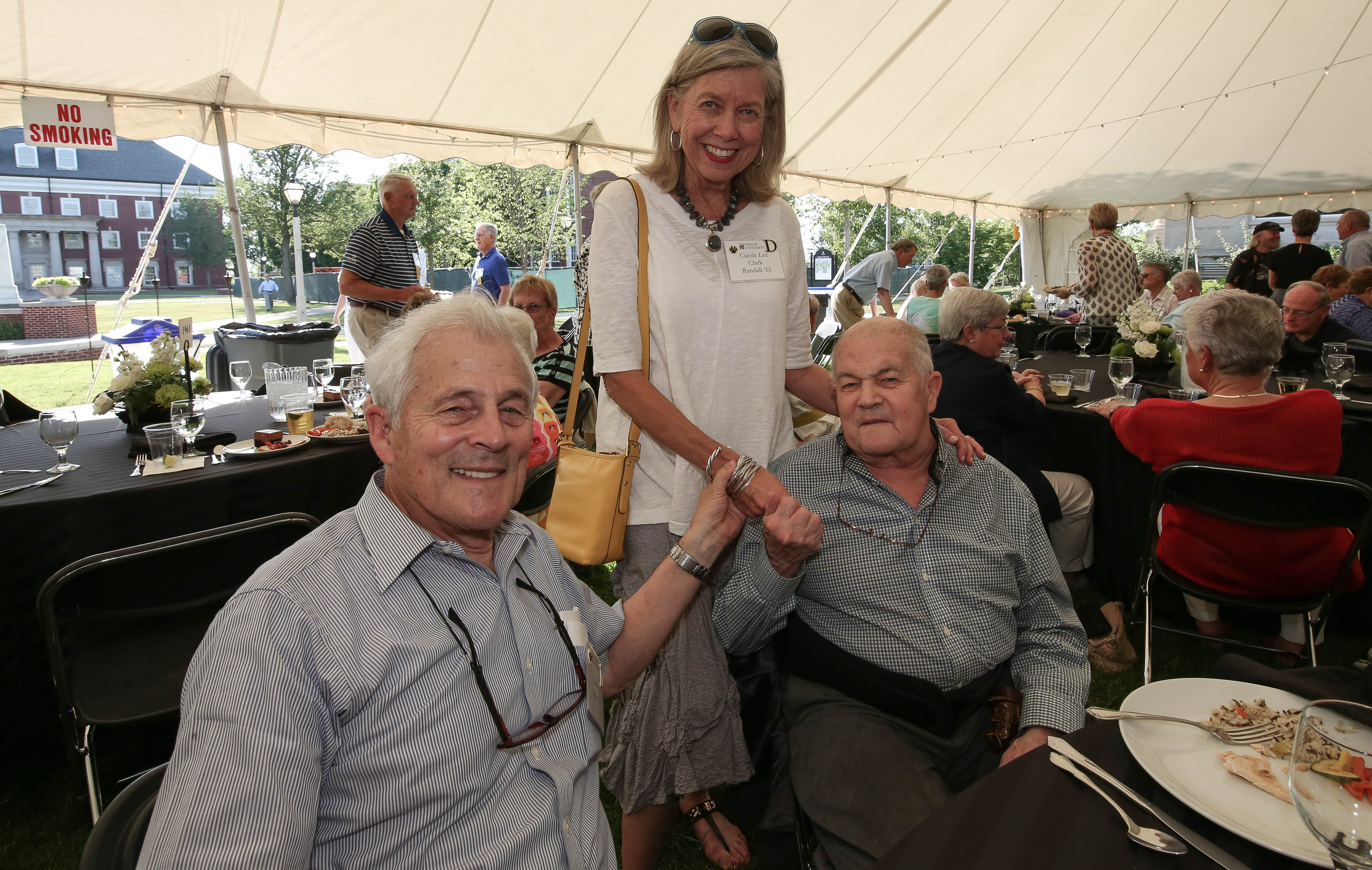 Classmates returned to DePauw June 10-12, 2016 to celebrate our 55th reunion. The weekend's highlights included an all-alumni dinner and awards celebration on the East College lawn Friday evening, a special convocation in historic Meharry Hall on Saturday morning, our class dinner Saturday evening and much more!
55th Reunion Final Giving Totals
In celebration of our 55th Reunion, we made the following gifts to DePauw:
THE FUND FOR DEPAUW
GIVING
GIVING PARTICIPATION ACTUAL
$103,939.84
53.88%  (125 Alumni)
The figures shown are based on giving to The Fund for DePauw from July 1, 2015, to June 30, 2016.
| ALL FUNDS GIVING | ALL FUNDS PARTICIPATION | LIFETIME GIVING |
| --- | --- | --- |
| $20,453,803.91 | 57.76% (134 Alumni) | $47,032,621.81 |
Class Volunteers
LIVING UNIT REPRESENTATIVES 

Ellee Northrup Hall
Alpha Chi Omega
Jo Ann Eggers Todd
Alpha Chi Omega
Marilyn Smith Boxell
Alpha Gamma Delta
Joan Furlong Huisinga
Alpha Gamma Delta
Judy Hanson Wessling
Alpha Phi
Lucy Brown Sloan
Alpha Phi
Don Daseke
Alpha Tau Omega
Dave Allen
Beta Theta Pi
Roger Ireson
Delta Chi
Chuck McConnell
Delta Chi
Jim DeArmond
Delta Tau Delta
John Ayres
Delta Upsilon
Bill Barrett
Delta Upsilon
Sarah Copeland Reynolds
Kappa Alpha Theta
Jo Ann Misslehorn Usher
Kappa Alpha Theta
Nancy Todd Gilbert
Kappa Kappa Gamma
Ericka Esser Shorney
Kappa Kappa Gamma
Pete Work
Phi Kappa Psi
John Tener
Phi Kappa Psi
Phyllis Osborn Wolfe
Pi Beta Phi
Dick Brock
Sigma Alpha Epsilon
Ellis Locher
Sigma Alpha Epsilon
George Dorner
Sigma Chi
Larry Murrell
Sigma Nu