Class of 1966

Planning is well underway for the Class of 1966 and their 55th class reunion, taking place at DePauw University October 28 - 31, 2021. Join classmates along with those from the Class of 1965 for a fun fall weekend in Greencastle!
Registration is now open (available on the events page here) and a tentative schedule of events is as follows:
Thursday, October 28, 2021
Reception for the Classes of 1965 and 1966 (6 p.m.)
Friday, October 29, 2021
Breakfast program for the Classes of 1965 and 1966
Opportunity to engage with students and faculty in classes
Lunch and conversation with Dr. Lori S. White, DePauw University President
Panel discussion with students and faculty
Dinner in downtown Greencastle
Class of 1966 afterglow/nightcap
Saturday, October 30, 2021
Breakfast with classmates
Faculty lecture
Campus tour
Lunch with students
Conversation with Admission and Enrollment
Free time to explore campus and the community
In Memoriam
Closing dinner
Sunday, October 31, 2021
Final farewells and depart for home
As a reminder, the Inn is now full, but there are also other local accommodations available that are recommended here. Additionally, there is a room block at The Holiday Inn Express in Cloverdale, Indiana. Here are some details on that accommodation:
Name: 1965/1966 DePauw Alumni
Rate: $155/night
Phone: 765-795-5050
If you have not read our most recent class communication, you can do so here. This letter and all previous communication to the class for our 50th reunion is also available in the menu at the left titled "Class of 1966 Communication Archive."
Class of 1966 Reunion Committee

Bobbie Hendricks Bahler
John Rabb
Sherry Kniebbe Harshorn
Bonnie Stout Lloyd
Max Hittle
Bill Hamrick
Carolyn Schrank Mugge
James Thompson
---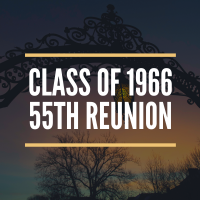 In the interim, we invited you to explore this archive of information from the Class of 1966's 50th reunion, which took place during Alumni Reunion Weekend of June 2016.
Please continue scrolling to find information, lists, and links from our time on campus celebrating our milestone reunion.