Class of 1967 50th Reunion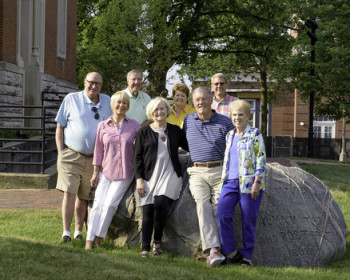 September 1966 and we were preparing for our senior year at DePauw and the exciting unknown adventures to follow our graduation the following May.

How could we have imagined all the joys, challenges, successes, disappointments, satisfactions, and surprises that would continue right up to today?

Your Class of 1967 Reunion team welcomed you back to DePauw for our 50th Reunion June 7-11, 2017…celebrating our lives at DePauw and beyond.
We hope you enjoy looking back at your 50th class reunion!
Class of 1967's 50th Reunion Newsletters
To download and/or print the class newsletters, click on the provided links below:
Class of 1967 50th Reunion Volunteers
More than 40 classmates volunteered and assisted in making our 50th reunion a memorable one.
REUNION COMMITTEE

Sally Crowden Barrett
Programming
Ann Barrow Cook
Programming
Carole Thorlton Gorsich
Living Units
Dave Hoover
Fundraising
Suzanne Anderson Hoover
Programming
Heidi Schultz Huizenga
Living Units/Programming
Marcia Swearingen Pfleeger
Fundraising
Dave Johnson
Fundraising
Craig Stokely
Communications
Bill Watson
Living Units/Fundraising
LIVING UNIT REPRESENTATIVES

Martha Kuenzli Smith
Alpha Chi Omega
Diane Ireson
Alpha Chi Omega
Janet Robison Berger
Alpha Gamma Delta
Barb Lewellen Powell
Alpha Omicron Pi
Wendy Browder
Alpha Phi
Andrea Caperell-Grant
Alpha Phi
Vicky Mayfield Hall
Alpha Phi
Dan Blaney
Alpha Tau Omega
Jim Readey
Beta Theta Pi
H. Groves Cooke
Bishop Roberts
Need Representative
Delta Chi
Kay Daugherty Klunder
Delta Delta Delta
Marcia Swearingen Pfleeger
Delta Gamma
Susan Dohrmann Moore
Delta Gamma
John Casey
Delta Kappa Epsilon
Jack Hogan
Delta Tau Delta
Bob Orthey
Delta Tau Delta
Mike Kern
Delta Upsilon
Susan Steele Marquez
Delta Zeta
Nancy Stewart Surber
Kappa Alpha Theta
Kay Johnson
Kappa Kappa Gamma
Joe Guirreri
Lambda Chi Alpha
Dave Johnson
Lambda Chi Alpha
Joe Gardewin
Longden Hall
Need Representative
Mason Hall
Tom Teegarden
Phi Delta Theta
Wayne Nelson
Phi Gamma Delta
Dave Hinshaw
Phi Gamma Delta
John Huneke
Phi Kappa Psi
Jim Taylor
Phi Kappa Psi
Jan McAdams
Pi Beta Phi
Adele Tressler Davis
Pi Beta Phi
Heidi Schultz Huizenga
Pi Beta Phi
Connie Nagle Bachert
School of Nursing
Randy Hatch
Sigma Alpha Epsilon
Jim Dutton
Sigma Chi
John Ferguson
Sigma Nu
Al Wells
Sigma Nu
Class of 1967 50th Reunion Donor Honor Roll
We gratefully acknowledge those classmates from 1967 who made a gift to DePauw in our 50th Reunion year.
Barbara Strasser Adams
Richard A. Adams
Peter T. Allen
Sally Hauck Allen
Diane E. Anderson
Connie Weimer Asbury
Donald B. Aslan
Constance Nagle Bachert
Frederick E. Bachert
William J. Baier
Dennis L. Barrett
Sally Crowden Barrett
Richard M. Beaty
Janet Robison Berger
Connie Campbell Berry
Daniel C. Blaney
Robert E. Blessing
Elizabeth Witler Bosin
Charles L. Briggs
Wendy E. Browder
Edward H. Brown
William D. Bucher
Joan H. Burger
Patricia Schrage Burgess
Jill Vance Buroker
Kay Koontz Burrier
Sally Mills Butzin
Andrea Caperell-Grant
Larry E. Carden
John T. Casey
Mary Zeluff Chandler
A. Claire Childress
Ann Barrow Cook
H. Groves Cooke III
Lynn Bresnahan Cooper
Stephen M. Davis
William H. DeGraff
Harry C. Dees Jr.
Frank H. Dewey
Patricia Johnson Doerr
Jaclyn Sehrt Doty
Thomas A. Drew
Wendell R. Drew
James W. Dutton
Robert W. Emmaus
Martin F. Farrell
Frankie Powers Fesko
Elizabeth Bowerman Foster
Gerald T. Frazier
Betsey Nims Friedman
John E. Fritsch
Charles M. Gadd Jr.
Joseph M. Gardewin
John P. Godwin
William O. Goodman
Carole Thorlton Gorsich
Karen Coburn Gottschall
David Edward Grass
J. Michael Greer
Tim A. Grodrian
William A. Grossman
Joseph A. Guirreri
Helen Otterman Guisler

Stephen W. Hadley
Richard A. Hall
Victoria Mayfield Hall
Kenneth D. Handley
Daniel T. Hasbrook
R. Randolph Hatch
Robert E. Hausner
Robert O. Hausser
William A. Hazleton
David C. Hinshaw
Carl E. Hirth
Connie S. Hittle
Jack M. Hogan
Nancy J. Holsapple
R. David Hoover
Suzanne Anderson Hoover
Richard W. Houston
Heidi Schultz Huizenga
John H. Huneke III
Diane E. Ireson
Jeanne Lowery Jackson
Jean Gossard James
Brenda Dunfield Johnson
David C. Johnson
Kay E. Johnson
T. Scott Johnston
Ann Montgomery Jones
Larry A. Junod
D. Thomas Katchka
Thomas E. Kerr III
Connie Wilson Kessler
Clare Kirby
William Finley Klaas
Kay Daugherty Klunder
Nina Shields Koelpin
Patricia Nicewander Krieg
Everett E. Landen
Linda Brookes Lanier
Albert H. Larson III
Benjamin F. Lehman III
Jeannine Buchanan Lish
Nancy O'Harra Lohman
Judith Bender Long
C. Seelye Burr Longnecker
Delos N. Lutton
Janice Biedron Lutton
Michael C. Maeder
Susan Steele Marquez
Catherine Hein Martin
Stephen R.S. Martin
Janet McAdams
Lexy C. McCulloch
Maurice Lee McDermond Jr.
Pamela A. McKee
Jeffrey W. McMurtrey
Purdie D. Meissner
Lynn Belknap Metcalf
Thomas L. Metz
Leslie P. Midla
Ronald S. Miller
Susan Dohrmann Moore
Barbara Trimble Mortimore
Robert H. Mulford

Gregory T. Mutz
Marcia Jensen Nelson
Wayne L. Nelson
Nancy DeCosted Niehaus
Diane Best Nosek
Susan Kuhl Nowlin
John W. O'Neil Jr.
Pamela Siemering O'Neil
Kent C. Ober
Jody Schoenwetter Orthey
Robert W. Orthey
Dean C. Osterling
Robert Gray Palmer
William S. Parker
Jeffrey P. Petertil
F. Garret Pfleeger
Marcia Swearingen Pfleeger
JoAnn Russell Plenge
Karen Eikenberry Povec
Barbara Lewellen Powell
Suzette Rawlings Powell
Mark S. Raynes
James A. Readey
Gail Ujiki Rigg
Merle Butler Rose III
Beth Ritter Schermer
Daniel L. Schermer
Martha Deckman Schlauch
Gary W. Schlegel
Kara Knight Schmitt
Daniel S. Smith
Martha Kuenzli Smith
Elizabeth Swan Snively
Ralph E. Spelbring
Gustav E. Staahl Jr.
Ann Pate Stanchina
John H. Staples
Barbara Creel Stephenson
Craig R. Stokely
Randolph H. Stokely
Russell E. Stullken
Judith Fernald Sturmer
Nancy Stewart Surber
Linda Erf Swift
James M. Taylor
Karen M. Taylor
Thomas R. Teegarden
John A. Thomas
Thomas R. Trager
Phyllis Manring Truesdell
Jane Kenney Turnbull
Robert Wadsworth
Douglas W. Waples
William H. Watson
Peter C. Welles
Alan K. Wells
Lee Zink White
Blanche Hester Wicke
Dianne Senger Williams
Sue Palmer Wise
Charlotte A. Wytias
Linda Harris Young
Steven J. Young