Class of 1972
Alumni Reunion Weekend
The Class of 1972 returned to DePauw and celebrated their 45th reunion during June 2017. Highlights of the weekend included an all-alumni dinner and awards celebration on the East College lawn Friday evening, a special convocation in historic Meharry Hall on Saturday morning, and our class dinner Saturday evening.
---
reunion chairs

Jim Campbell
jacampbell321@gmail.com
Bobbi Cokinis Prichard
bprichard@wi.rr.com
Deva Scheel
dejasc@msn.com
Tom Schuck
schuck@taftlaw.com
---
Class Communications
In case you missed our first class reunion letter, you can view it by clicking here.
---
45th Reunion Fundraising
Reunion giving is an essential component of DePauw's operational support, providing a remarkable 25% (or more) of the annual total given to The Fund for DePauw. Reunions engage alumni and encourage giving as a means of investment in the future of DePauw.
The figures shown below are based on giving from July 1, 2016 to June 30, 2017.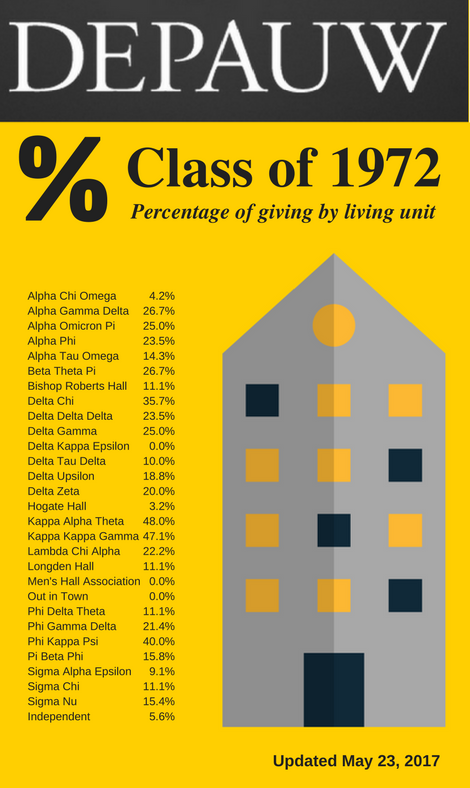 ---
Living Unit Representatives

Cathy Musk Southerland
Alpha Chi Omega
Barbara Lehnhardt
Alpha Gamma Delta
Debbie Johnson Darnell
Alpha Omicron Pi
Jane Doyle Rhea
Alpha Phi
Tom Klamer
Alpha Tau Omega
Dave Anderson
Bishop Roberts, Longden and
Out In Town
Gerry Fitzgerald
Delta Chi
Lindsay Whitaker Berge
Delta Delta Delta
Mary Hill Watt
Delta Delta Delta
Linda Bellinger Kinnett
Delta Gamma
Scott Norris
Delta Tau Delta
Eric Pound
Delta Upsilon
Ginny Stickles Spring
Delta Zeta
Vickie Wood Parrish
Hogate
Pat Michel Taylor
Hogate
Kathy Holmes Emison
Kappa Alpha Theta
Heather Neier
Kappa Alpha Theta
Alexe Reed Fogle
Kappa Kappa Gamma
Ron Tedrow
Lambda Chi Alpha
Bob Lott
Phi Delta Theta
Harry Cangany
Phi Gamma Delta
Jim Gesler
Phi Kappa Psi
Carolyn Berger Parsons
Pi Beta Phi
Geoff Marsh
Sigma Alpha Epsilon
Denny Southerland
Sigma Chi
Chris Penn
Sigma Nu