Class of 1985
UPDATE ABOUT ALUMNI REUNION WEEKEND 2020
While Alumni Reunion Weekend 2020 will not take place as originally scheduled, we will share additional details about the June 2021 reunion once we support the university in more pressing matters. Information about COVID-19 is constantly evolving and changing. Because of this, our plans will continue to evolve and change, as well. We appreciate your patience as we all navigate the effects of the pandemic. In the meantime, please read these FAQs for some common questions and answers. If you do not see an answer to your questions or concern, please feel free to email us at alumnioffice@depauw.edu. Please check back often as we will update this information as decisions are reached and more information and news is shared.
---
Alumni Reunion Weekend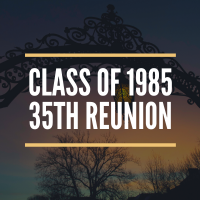 The Class of 1985 is invited to return to DePauw to celebrate their 35th reunion. More information, including class reunion volunteers, schedule details, and participation news, will be updated here in the coming months.
If you are interested in getting involved with class reunion planning, please contact the Development and Alumni Engagement team by emailing us at alumnioffice@depauw.edu, and we will connect you to the appropriate team member.
Class of 1985 | 35th Reunion Volunteers