Class of 1987
Alumni Reunion Weekend
The Class of 1987 is invited to return to DePauw June 9-11, 2017 to celebrate our 30th reunion and the place we once called home. Highlights of the weekend include an all-alumni dinner and awards celebration on the East College lawn Friday evening, a special convocation in historic Meharry Hall on Saturday morning, our class dinner Saturday evening and much more!
To access the full schedule of events, please click here.
---
Reunion Chairs

Steve Combs

scombs@ksmconsulting.com

Sarah Morehead Combs
indycombsfamily@att.net
Richard North
richardwnorth@gmail.com
Leslie Alexander North
leslie.a.north@gmail.com
Liz Tinsman Lee
liztlee@aol.com
Laura Parsons Schoch
lpschoch@gmail.com
---
Class Communications
In case you missed our first class reunion letter, you can view it by clicking here.
---
Class of 1987 Reception and Dinner
Our class reception and dinner will take place from 6-8:30 p.m. on Saturday, June 10 at the Janet Prindle Institute for Ethics.
---
30th Reunion Fundraising
Reunion giving is an essential component of DePauw's operational support, providing a remarkable 25% (or more) of the annual total given to The Fund for DePauw. Reunions engage alumni and encourage giving as a means of investment in the future of DePauw.
The figures shown below are based on giving from July 1, 2016 to June 30, 2017.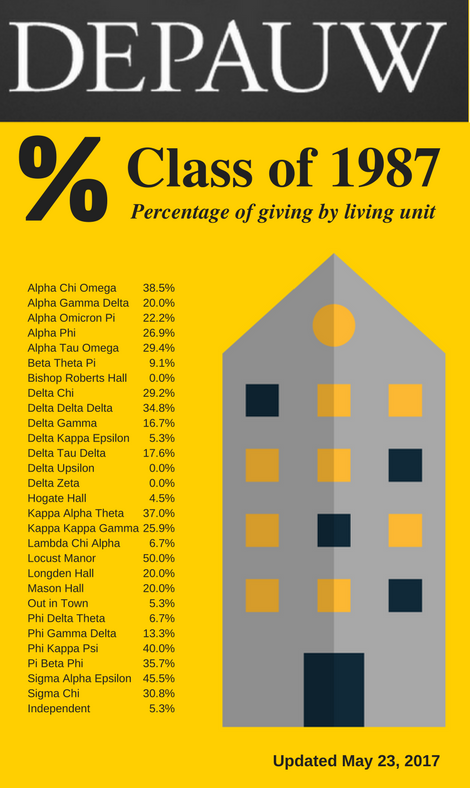 Visit 2017 Reunions by the Numbers for an overview of how all classes celebrating reunions in 2017 are doing on their fundraising. Also, visit Reunion Giving Records to see the top 10 classes for giving and participation in giving to The Fund for DePauw.
---