Class of 2006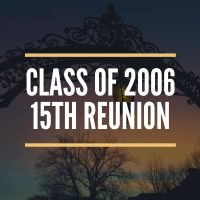 The Class of 2006 is invited to celebrate their 15th reunion leading up to and during Alumni Reunion Weekend 2021, scheduled for June 10-13, 2021.
More information, including class reunion volunteers, schedule details, and participation news, will be updated here in the coming months and on the Alumni Reunion Weekend main page.
If you are interested in getting involved with class reunion planning, please contact the Development and Alumni Engagement team by emailing us at alumnioffice@depauw.edu, and we will connect you to the appropriate team member.
---
Class of 2006 | 15th Reunion Steering Committee & Volunteers
| NAME | REUNION POSITION |
| --- | --- |
| Andrea "Dre" Speller Kleymeyer  | Steering Committee  |
| Anne Burnett O'Neill  | Steering Committee   |
| Nipun Chopra | Steering Committee   |
| Kye Hawkins | Steering Committee  |
| Ryan Nesbitt | Steering Committee  |
| Jessica Dixon | Steering Committee  |
| Mike Stanek | Steering Committee  |
| Katherine T. LaBeau | Alpha Chi Omega representative |
| Erin Szuch | Alpha Chi Omega representative |
| Allison Buckley | Alpha Phi representative |
| Michael Klear | Alpha Tau Omega representative |
| Wes Anderson | Delta Ghi representative |
| Kate Manecke Quickel | Delta Gamma representative |
| Gary Rom | Delta Tau Delta representative |
| Ryan Randolph | Delta Upsilon representative |
| Zachary Adams | Delta Upsilon representative |
| Eileen Wiesbrauk | Delta Zeta representative |
| Abby Troutman Rom | Kappa Alpha Theta representative |
| Janet "Jess" Blandford Lukens | Kappa Alpha Theta representative |
| Steven Linville | FIJI representative |
| Mike Spiegel | Phi Kappa Psi representative |
| Lisa Chambers Wallace | Pi Beta Phi representative |
| Sarah Plymate Lofton | Pi Beta Phi representative |
| Evan Amies | Pi Beta Phi representative |
| Mike Stanek | Sigma Chi representative |
---