Alumni College Series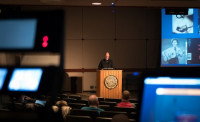 The Alumni College Series provides alumni with lifelong learning opportunities and the ability to engage faculty and fellow alumni in the kind of discourse students regularly enjoy at DePauw.
While we would love the opportunity for you to attend in person (both on-campus and in other in-person locations), we recognize that not all of our alumni can make it back to campus for unique events and lectures. With that in mind, our Virtual Alumni College presentations are designed to be streamed live and can be viewed on a computer, tablet, or mobile device.
Please explore this page for information about the Alumni College Series, archived lectures from various DePauw faculty members, as well as answers to your frequently asked questions.
Please explore here for additional virtual events hosted by Development and Alumni Engagement.
Alumni College Series
In-person Alumni College Series presentations have taken place both on-campus and across the country. Please check back for announcements about upcoming Alumni College Series events and registration.
Virtual Alumni College FAQs
I registered and intended to be at the event on campus, but now I can't make it. Should I cancel my registration?
No, there is no need to cancel your registration. When you have time, feel free to watch the event online here.
If I am attending virtually, can I interact in any way?
Yes, the first half of the event is for the lecture and the second half is a Q&A session between the speaker, the room and online audience.
Close to the event date, you will receive a follow-up email with a link to the online live stream of the lecture and a link to a Google Form which gives you a text box to type a question that may be answered live by the speaker.
What if I can't watch the event live?
If you can't watch the event in person or from the live stream but still want to view it, please go ahead and register for the event and contact our office at alumnioffice@depauw.edu for instructions on how to view the stream at a later date.