Coming Together Series
The Coming Together Series connects and empowers a diverse community of DePauw alumni and students through relationship building, mentoring, and social opportunities.
Coming Together Weekend
Coming Together Weekend events are an opportunity for alumni to to return to campus to:
Reminisce about your experiences at DePauw University;
Reconnect with former classmates and meet new alumni to build fellowship; and,
Recommit to the students, service, and future of DePauw.
We are looking forward to planning future Coming Together events as we navigate through the pandemic.
---
Coming Together Series
The Office of Alumni Engagement took Coming Together to various alumni locations and destinations as part of our Coming Together Series.
In May 2019, we connected with alumni in Chicago (Room 43). In addition to conversations about current events and ways that our alumni in Chicago can connect and re-connect with DePauw, our guests were also joined by guest DJ Fredrick Reed '16.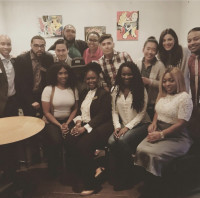 In April 2019, we gathered with alumni in NYC (33 Lafayette Lounge) to discuss current events and ways that alumni can get involved and re-connected to DePauw and the alumni network.
Tea's Me Cafe Indy helped us host our Coming Together event in Indianapolis during November 2018, bringing together tea, art, and music. Deonna Craig '04 was the in-house artist and music was provided by Myron El '76.
In October 2018, we connected in Atlanta (Peters Street Station) for an evening of fashion and music with our alumni and guests.