Virtual Alumni Events
Virtual Events Archive for DePauw Alumni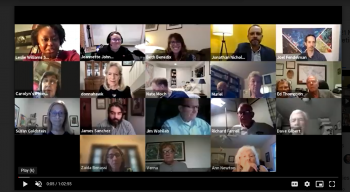 Welcome to the Alumni Engagement virtual event archive. Past events that were recorded will be archived and available to view again online. Thank you to our alumni, staff, students, and faculty for making our events possible.
Interested in viewing a past virtual or hybrid event? Event recordings can be found on our division's YouTube page. You can access it by clicking here.
Looking for information on our Alumni College Series? Our Alumni College presentations provide alumni with lifelong learning opportunities and the ability to engage faculty and fellow alumni in the kind of discourse students regularly enjoy at DePauw. Visit this page to explore previous virtual, hybrid, and in-person presentations.
Interested in attending an event? Be sure to bookmark our events page to stay current on upcoming programs. Visit this page to explore upcoming events.