Volunteer with the Hubbard Center for Student Engagement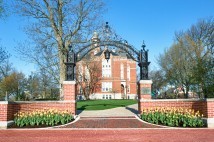 The Office of Alumni Engagement is proud to partner with the Kathryn F. Hubbard Center for Student Engagement in helping students and alumni develop meaningful connections and networks, anchored in their DePauw Experience. Our alumni provide a variety of opportunities for students to gain experiences and insights outside of the classroom, helping them incorporate their education and skills into real-world experience. You play a key role in the education of DePauw students.
provide Internship Opportunities
Internships are valuable opportunities for students to gain real-world experience and explore career options while discovering greater purpose and focus on academic learning. All students are encouraged to take advantage of internships. You can help students find their professional calling by hosting interns with your company.
If you have a job, internship, or another opportunity for one of our students, please share that information with the Hubbard Center team by completing this form.
Offer Job Shadowing Opportunities + Experience
One to three-day job shadowing opportunities can be an excellent way for students to explore different professions. With a short time frame and limited requirements, offering job shadowing can be an easy way to introduce current students to your field without committing to more structured semester-long or summer internships. You can post your job shadowing opportunity online for students to search for and apply directly to you. To share a job shadowing opportunity with current students, all you need to do is set up your profile in Handshake.  For more information about Handshake and information about setting up your profile, click here.
Represent your company at Job + Internship fairs
The Hubbard Center for Student Engagement sponsors sessions for alumni to share their experiences and industry insights with current students. Represent your organization on campus in events ranging from career fairs to informal gatherings. Students strengthen their professional and networking skills while alumni and their companies connect with current students and identify potential future hires.
Participate in Winter term or Winter Term In-Service
Graduates can support students during Winter Term in numerous ways. Alumni can provide job shadowing opportunities for students to participate in a full-time, month-long externship to learn more about a career field. Alumni also can visit with students during Winter Term, helping them expand their network of contacts and professionals. Current students can learn from graduates' diverse insights and professional experiences.
Through Winter Term in Service, medical, construction, and education professionals have been accompanying DePauw students on international medical brigades for 40 years.  They provide direct assistance, including offering healthcare services to low-income communities and acting as a mentor to the team of students. To learn more about this opportunity, which is offered annually in January over Winter Term, please click here.