GCBs Part of Successful Business Formula for Jill Skogheim '00
May 3, 2012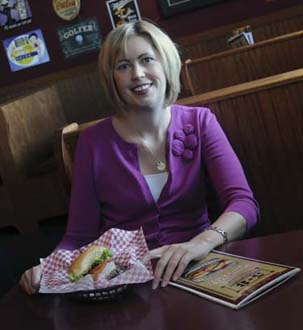 Jill Skogheim, president of Food Services Inc. and 2000 graduate of DePauw University, is featured in the St. Paul Pioneer Press. The co-owner of the 5-8 Club in Maplewood, Minnesota, Skogheim "did an internship in college with the founder of the business [James W. Emison III '52]. I came back after college and opened the Maplewood location and then the Champlin location." (photo: Chris Polydoroff/Pioneer Press)
Asked about her business' menu, Skogheim tells the newspaper, "I have two favorites: the blue cheese juicy Lucy and the GCB -- garlic cheeseburger. I went to DePauw University in Greencastle, Ind., and there was a hole-in-the-wall hangout there called Marvin's that served a GCB. The garlic is in the bread, not the burger. We serve the same burger with the same seasoning and same bread, but we use a higher-grade meat. When my friends from college come here, they love the GCB."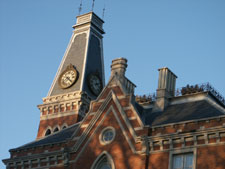 Skogheim was an economics major and Management Fellow and serves on DePauw's Alumni Board. She went on to earn an M.B.A. from the University of Minnesota's Carlson School of Management.
Access the complete piece, which previews the 5-8 Club's tenth anniversary, at the Pioneer Press' website.
Back