Three Student-Written Plays to be Presented March 7-10
February 27, 2013
A trio of original plays written by three DePauw University students will be presented by DePauw Theatre, March 7 through 10. "Battle, Baby, Bird: New Works by DePauw Playwrights" includes Potato, Potato (Po-tay-toe, Po-tah-toe), written by Will Freske '13; The Curse, by Amanda Feller '13; and Hawk, which is the work of Elise Lockwood '14.
Thursday-through-Saturday performances will begin at 7:30 p.m. in Moore Theatre, located within DePauw's Green Center for the Performing Arts. The Sunday, March 10, performance will be a 3 p.m. matinee. Steve Timm, John Rabb Emison Professor of Creative and Performing Arts and professor of communication and theatre, is the director of the productions.
Everyone is invited to attend an opening night reception following the Thursday performance, as well as a talk-back after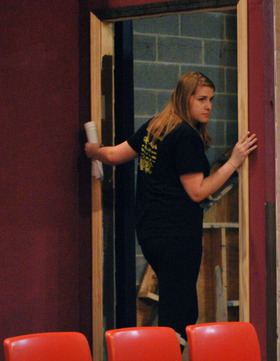 the Friday night show. Tickets are available via this link.
This latest production spotlights DePauw Theatre's long tradition of encouraging and developing student-written plays. The works being presented in "Battle, Baby, Bird" were created in a class taught by Professor Timm in the Fall 2012 semester.
One of the student writers, Will Freske, says it's exciting to have his work performed by fellow students. "These plays have sword fights and potatoes, jilted lovers and a poorly constructed dead hawk made from a frozen chicken. What else can you ask for?"
Sunday's performance will be televised by DePauw's student television operation, D3TV, and will be streamed live on the outlet's website.
Back