Sarah Fears '17 Presented with DePauw's Walker Cup
April 24, 2017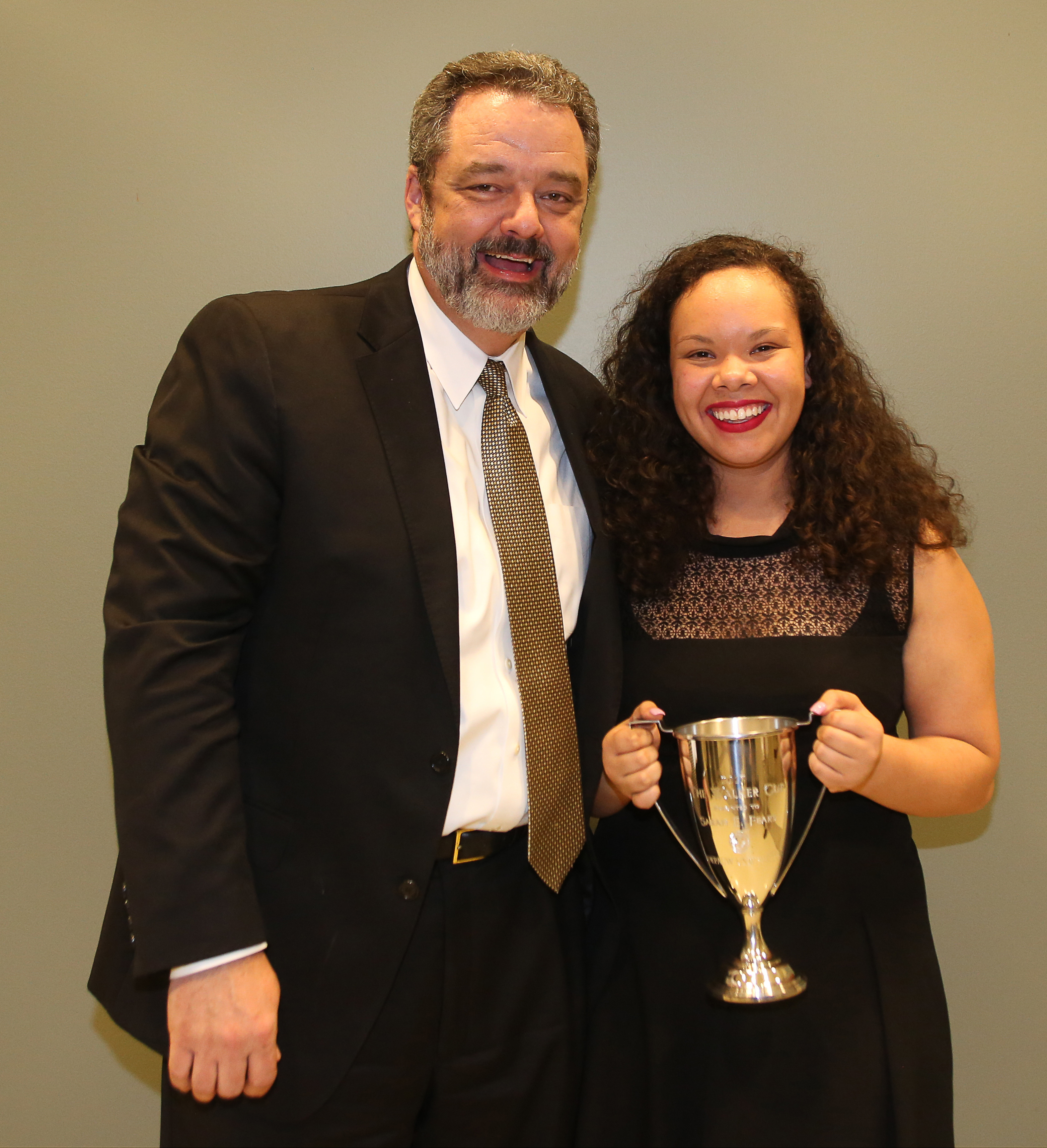 The work of a DePauw University senior to better the campus and community "is attributable to her personal motto, 'lead with a servant heart'," noted President D. Mark McCoy tonight as he presented Sarah Fears with the Walker Cup. DePauw's top student award, the Walker Cup is presented to the senior who has contributed the most to the University community during his or her four years on campus. Fears and many of her fellow students were recognized at the annual Academic Awards Convocation, which took place in the Green Center for the Performing Arts' Kresge Auditorium.
A political science and Africana studies double major from Terre Haute, Fears established the Intercultural Conversation Facilitator program in DePauw's Office of Multicultural Student Services. As a Bonner Scholar, she served the Greencastle community by teaching English as a Second Language at Tzouanakis Elementary School and serving as community service soordinator for the school's Student Friend program, which provides mentors to third-through-fifth graders. She was also instrumental in creating DePauw Dialogue and was an important voice in the establishment of the new Center for Diversity and Inclusion, made possible by the donation from Justin and Darrianne Christian. She also served on the Diversity and Equity Committee to write DePauw's Five Year Diversity and Inclusion Plan, earning her the Randal L. Wilson Award for Outstanding Contributions to the college. Fears plans to pursue a master's degree in higher education administration at the University of Pennsylvania.
Also during tonight's program, Midori Kawaue was awarded the Ferid Murad Medal, which has been given since 2014 to the senior who has had the most significant scholarly or artistic achievements during his or her time at DePauw.
A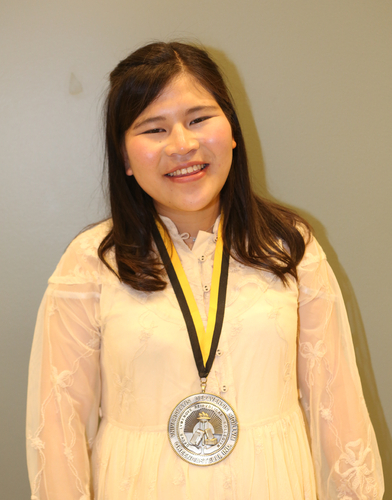 n international student from Japan with majors in history and French, Kawaue is a Rector Scholar, a Grew-Bancroft Scholar, recipient of the William Wallace Carson History Scholarship and Prindle Humanities Prize, and a member of Phi Beta Kappa, Phi Alpha Theta, Pi Delta Phi, and Mortar Board honor societies.
Inspired by the Little House series, it has been her dream to pursue U.S. history and demonstrate that there are no intellectual borders in academia. For the past three years, the DePauw student has been working as a co-editor of a Civil War Prisoner of War diary with Professor John Schlotterbeck and the DePauw Archives. This book-length manuscript is currently under review at Kent State University Press. In 2016, Midori was one of six students selected from a national pool for the Historic Deerfield Summer Fellowship Program, among the most prestigious national fellowships for undergraduates studying U.S. history and is now writing a year-long history thesis that examines the social construction of scientific knowledge from the early Republic to the Civil War era. The senior has been named a finalist for the Gilder Lehrman History Scholar Award, which recognizes history majors throughout the nation for their scholarly achievement.
Kawaue plans to pursue a Ph.D. in the history of science and serve as an intellectual bridge between the U.S. and Japan, thus contributing to global dialogues on history.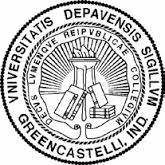 Dr. Murad, a 1958 graduate of DePauw, won the Nobel Prize in Medicine in 1998 and is a professor at George Washington University's School of Medicine and Health Sciences.
A program from tonight's event listing all of the awards and their recipients is available here.
Video of tonight's complete ceremony is embedded below.
Back