Variety Story on Cable News Quotes Prof. Jeff McCall '76
July 11, 2017

"Scandal-battered Fox News could be benefiting from CNN's recent travails, suggests Jeffrey McCall, a media studies professor at DePauw University,' writes Brian Steinberg in Variety. The publication's senior television editor notes, "In the 12 months since Roger Ailes was ousted as Fox News CEO in July 2016, the 21st Century Fox division has been turned inside-out by scandals, lawsuits, hasty departures and even more hastily designed changes to its primetime lineup," yet remains #1 in the cable news ratings despite gains by its rivals.
The story points out, "CNN, typically the most centrist of the nation's general cable-news outlets, has been thrust into an adversarial relationship with the White House as it continues to report on the controversies swirling around President Trump."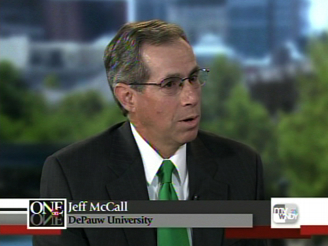 Dr. McCall tells Variety, "CNN's controversies and running battles with Trump remind Fox News viewers about why those viewers value Fox News in the first place."
You'll find the complete article here.
A former journalist, Jeff McCall is a 1976 graduate of DePauw, where he majored in communication and worked on student radio station WGRE, which he now serves as faculty adviser. The author of Viewer Discretion Advised: Taking Control of Mass Media Influences, the media studies professor has been called upon for comment by more than 100 newspapers. He recently authored a column on the media's battles with President Trump.
Source: Variety
Back