Best Buy Founder Richard Schulze Receives Inaugural Robert C. McDermond Medal
October 26, 2000
October 26, 2000, Greencastle, Ind. - The inaugural Robert C. McDermond Medal for Excellence in Entrepreneurship was presented today to Richard M. Schulze, founder, chairman and CEO of Best Buy Company, Inc., in a ceremony at DePauw University. The McDermond Medal was awarded by The Robert C. McDermond Center for Management and Entrepreneurship "in recognition of entrepreneurial achievement and meritorious service to the community of commerce." (from left: James W. Emison '52, Mrs. Robert C. McDermond and Richard M. Schultze, recipient of the first Robert C. McDermond Medal for Excellence in Entrepreneurship)
Schulze was on campus to give the Robert C. McDermond Honorary Lecture, titled "Retailing in the New Millennium." McDermond was a 1931 graduate of DePauw who endowed the University's Center for Management and Entrepreneurship and the Management Fellows Program. James W. Emison, a 1952 DePauw graduate, president of Western Petroleum Company in Eden Prairie, Minn., and a member of the DePauw board of trustees, created the McDermond Medal in order to honor his friend, Robert McDermond, who died in 1997.
Schulze has devoted more than half of this 59 years to the consumer electronics industry, and he was the recipient of the 1999 National Ernst & Young Entrepreneur of the Year Award. His wide-ranging career encompasses technical experience, retail and distributor sales,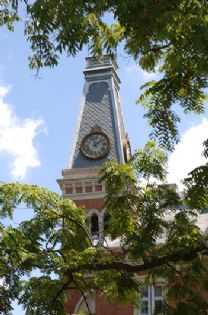 and management of the nation's leading retail chain. Best Buy is currently the nation's largest volume retailer of consumer electronics, personal computers, home office products, entertainment software and appliances.
With annual revenues of more than $10 billion, the company is ranked 195 on the Fortune 500 and was added to the Global 500 this year at #441. A native of the Twin Cities, Schulze is equally active in philanthropic and civic affairs. He has served on numerous committees and aided organizations such as the United Way's Keystone fund-raising effort, Camp Courage of Minnesota and the Juvenile Diabetes Foundation. He recently joined the board of governors of KARE-TV's "Eleven Who Care." He has received numerous awards recognizing his business accomplishments and commitment to community service.
Robert C. McDermond, visionary and benefactor of DePauw's Center for Management and Entrepreneurship, had a long and successful career in the insurance and electronics industries. A native of Hope, Ind., he was a long-time resident of Indianapolis. McDermond and several associates
founded the College Life Insurance Co. in 1946. He later served as president and chairman of EMP Electronics in Phoenix, and he was a member of the board of directors of Peoples Bank, from which he retired in 1979.
Selection of the McDermond Medal recipient is based on the following criteria: (1) the nominee's role in the formation or growth of an entrepreneurial business venture, (2) the nominee's role in assisting others in establishing entrepreneurial businesses, and (3) the nominee's unique display of creativity and innovation in entrepreneurial leadership.
Back