Psychology Professor Terri Bonebright Receives Award for Exemplary Teaching
November 26, 2000

November 26, 2000, Greencastle, Ind. - A DePauw University psychology professor known for challenging students in the classroom and working collaboratively with students in her research has been selected to receive an Exemplary Teaching Award from the General Board of Higher Education Ministry of the United Methodist Church.
Since joining the DePauw faculty in 1995, Terri L. Bonebright, associate professor of psychology, has conducted collaborative research with more than 50 students. Students have been co-authors with Bonebright on three journal articles and eight professional conference presentations.
Among the courses Bonebright teaches are Introduction to Psychology, Cognitive Psychology, Sensation and Perception, Research Methods, Intelligence and Creativity, and Senior Seminar. She believes that her teaching is enhanced through continuing research projects with students that focus on two areas of special interest: auditory perception (how people use sounds in everyday life and especially in conjunction
with computers) and on factors that determine facial and vocal attractiveness.
"I do all my research with students," Bonebright said. "I view students as my research colleagues on the projects, and some of them work with me most of their student careers at DePauw. We work as a research team."
While she purposely strives to involve students in their own learning, she also cultivates an environment of mutual respect that motivates students. Michael A. Nees, a senior from Cloverdale, Ind., with a double major in psychology and English literature, said, "One thing I find very appealing about Professor Bonebright is that she approaches teaching, and especially research, as a cooperative effort. She relates to students as peers, and she values and appreciates students' input."
Bonebright also is recognized by her colleagues as an effective teacher. "Terri has a wonderful rapport with students. She's very enthusiastic and energetic," said Pamela M. Propsom, associate professor and chair of psychology. "Her courses are very rigorous and very challenging, yet students flock to them. And they report enjoying the experience."
Bonebright also places a great deal of value on supporting students, especially first-generation college students, through the academic process. She served as an adviser for the Horizon Scholar program, which encourages students who are the first in their family to attend college. She also teaches at the DePauw Institute, which includes Horizon Scholars and other students, during the summer.
A native of Lincoln, Neb., she received bachelor's, master's and doctoral degrees from the University of Nebraska-Lincoln.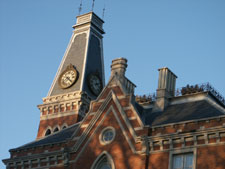 The General Board of Higher Education Ministry of the United Methodist Church presents the Exemplary Teaching Award in order to recognize outstanding teachers at Methodist-related institutions of higher education. Along with the award, Bonebright receives a $1,000 stipend.
Previous DePauw recipients of the award include Tom Chiarella, associate professor of English; John Dittmer, professor of history; Craig T. Paré, associate professor of music; Andrea E. Sununu, professor of English; and Valarie H. Ziegler, professor of religious studies.
Back